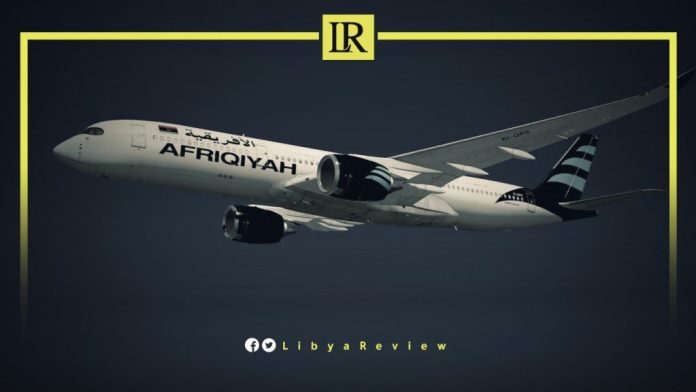 On Satrday, Libya's Al-Abraq International Airport confirmed the arrival of the first domestic flights of Afriqiyah Airways, coming from Mitiga International Airport in Tripoli.
In a statement, Al-Abraq Airport said that an evaluation committee affiliated with Afriqiyah Airways arrived at the airport, on the occasion of the start of its domestic and international flights from it.
The statement added that the launch of international flights will be announced in the coming period.
It referred to the committee's evaluation of the airport as one of the best Libyan airports. The statement pointed out to the holding of a ceremony for this occasion, in the presence of the airport director, departments and sections of the airport management, security and control services, the Libyan Handling Company, and the Afriqiyah Airways station.
Last month, Ryanair's Chief Executive, Michael O'Leary, said that Europe's largest airline by passenger numbers is in talks with authorities in Libya and Egypt, about operating flights to the countries for the first time.
Ryanair's only flights outside of Europe currently are to and from Morocco, Israel, and Jordan.
Its Hungary-based rival Wizz, which flies to Egypt and Morocco, has also been expanding aggressively into the Middle East, flying 36 routes from Abu Dhabi on its Wizz Air Abu Dhabi joint venture.
"We're talking to the Libyans and the Egyptians," O'Leary told a Eurocontrol event, without giving any more details.
Notably, the tumultuous political history of Libya has virtually removed it from the tourism map for many years. In 2011, the Libyan Revolution saw civil war breaking out in the country, leading to the deaths of 30,000 people. Although the war was over relatively quickly, the country was torn apart, with numerous rival militias maintaining a landscape of conflict for many years to come.
The second civil war in 2014 saw all foreign airlines stopping service to the country. A skeletal aviation industry was maintained by the likes of Libyan Airlines and Afriqiyah, but Tripoli International Airport was destroyed in the fighting. Since 2014, Mitiga International Airport has been functioning as the hub for the capital, although it too has been the subject of violent attacks.