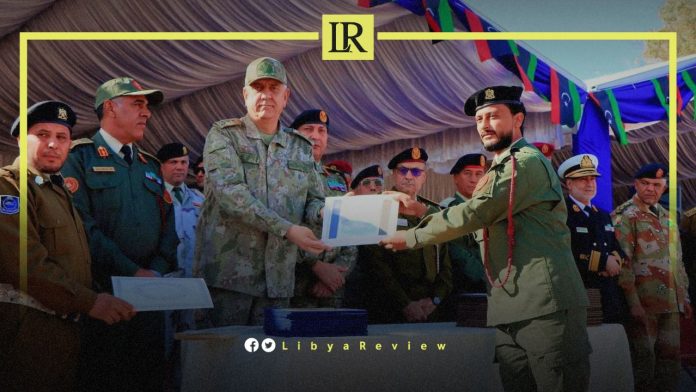 The Commander of the Turkish forces in Libya, Colonel Osman Itaj and Mohamed Al-Haddad, the Chief of Staff of the western region attended the graduation ceremony of a new batch of infantry, artillery, and armoured school officers, after they received training from the Turkish army.

Meanwhile, Al-Haddad announced his intention to "form and build two infantry brigades and an artillery regiment, to boost the military."

In 2019, Turkey signed security, and military agreements with Libya's previous government, including a memorandum of understanding on maritime borders. Several countries, including Egypt and Greece, consider these agreements a violation of international law.

Notably, Turkish Defense Minister, Hulusi Akar claimed that the presence of the Turkish military in Libya "is not as a foreign power."

Akar added that they would continue their military training in five centers in Libya. He noted that Ankara is "ready to provide everything necessary to prevent the resumption of conflicts and bloodshed in Libya."

The minister claimed that "Turkey is the only country that has made sincere efforts to achieve self-sufficiency in Libya, without having any agendas."

In June, the Turkish Parliament approved a motion to extend the mission of Turkish troops in Libya for an additional 18 months.

Notably, Libya's Presidential Council Deputy Head, Abdallah Al-Lafi arrived in Niamey on Friday. He is set to participate in a summit on African industrialization and economic diversification.

In December 2021, the Turkish Armed Forces dismissed 56 soldiers stationed in Libya, after they filed a complaint against their Commander on charges of bullying.

The TAF terminated the contracts of the specialist sergeants after an investigation was launched into the complaints submitted to the Presidency Communication Centre (CİMER), the Deutsche Welle (DW) reported.

The soldiers accused their Commander of physical and psychological bullying, being forced to collect the trash of Libyan soldiers, train through illness, and chronic verbal abuse," DW stated.

"You don't deserve the money you get. You are nothing. You can complain to me wherever you want, I worked in the legal branch for 9 years and I can fire you in five minutes," the Commander reportedly told the soldiers, according to DW.