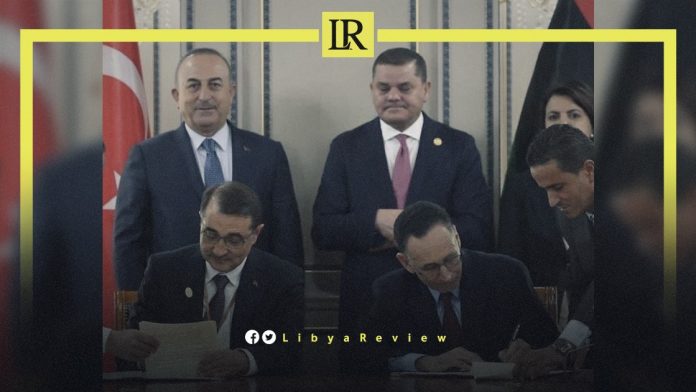 On Monday, a Member of the Libyan Parliament, Jibril Ouhaida strongly condemned the agreement signed between the Government of National Unity (GNU) and Turkey, for oil and gas exploration in Libya.
In press statements, the lawmaker said that "Turkey, through such an illegal agreement, is practising a kind of blackmail against Libya and the European Union."
Another Libyan MP, Abdul-Moneim Al-Arfi said that the House will discuss the MoU in an upcoming session. This will be held on Tuesday in Benghazi, upon an invitation of the Speaker, Ageela Saleh.
Earlier this month, Saleh informed UN Secretary-General, Antonio Guterres that "any memorandums of understanding concluded by the GNU have no legal effect and do not bind the Libyan state."
He stressed that "the GNU's mandate had constitutionally expired in accordance with the terms of the political agreement." He added that the GNU had "failed to carry out its duties and tasks specified in the roadmap of the Libyan Political Dialogue Forum (LPDF)."
"Committing this deliberate violation could destabilize the security and stability of the eastern Mediterranean region, and that of neighbouring countries of Egypt, Greece, and Cyprus," Saleh noted.
Moreover, 90 members of the Libyan Parliament expressed their "rejection and strong condemnation of the signing of vague memorandums of understanding between the outgoing GNU headed by Dbaiba and Turkey."
The MP's referred to the political agreement, which "prohibits the government from signing any agreements or treaties during the transitional stage."
They said that "what the Dbaiba government had done did not impose any current or future obligations on the Libyan state, as it was done with a non-relevant party."
They explained that the "signing of the MoU is an attack on the wealth of the Libyan people at this difficult stage." As well as calling on Turkey to "respect the sovereignty of the Libyan state, and not to interfere negatively by supporting a political party at the expense of the Libyan people."
Notably, EU Spokesman, Peter Stano said the recently signed hydrocarbons deal between Libya and Turkey could "potentially undermine regional stability". The agreement was condemned by Greece, Egypt, the US, UK and France.