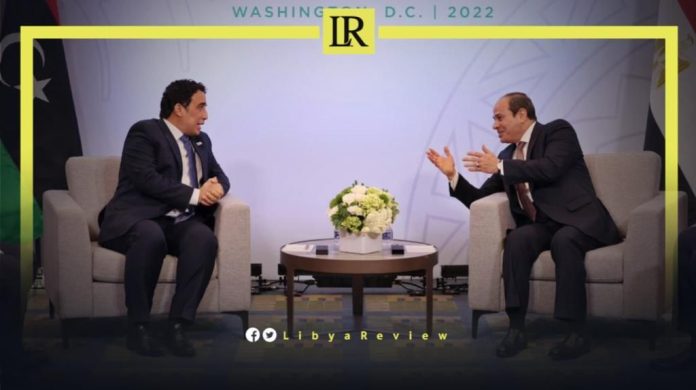 The Head of the Libyan Presidential Council (PC), Mohamed Al-Mnifi met with Egypt's President, Abdel Fattah El-Sisi on Thursday. They discussed the latest developments in the Libyan crisis.

This came on the sidelines of the US-Africa leaders' summit in Washington DC.

During the meeting, El-Sisi reiterated Egypt's "firm stance in supporting the efforts of the PC to help create the required climate for holding Libya's Presidential and Parliamentary elections simultaneously. In order to end the current crisis, by activating the will of the Libyan people."

On his part; Al-Mnifi affirmed Libya's appreciation for the "vital Egyptian role led by President El-Sisi in restoring peace and stability in Libya. In light of the fraternal and historical relations that bind the two countries, and the pioneering role under the President, especially with regard to supporting Libyan institutions."

On Tuesday, El-Sisi issued a decree demarcating the country's western maritime borders with Libya.

"The borders of Egypt's territorial waters begin from the Egyptian-Libyan land border point No. 1 for a distance of 12 nautical miles, reaching point No. 8, and thus Egypt's western maritime borderline launches from point No. 8 in the direction of the north," the decree said, which was published in the official gazette.

In October, Turkey and the Tripoli-based government, headed by Abdel-Hamid Dbaiba, signed a series of economic agreements that included energy exploration in maritime areas.

The agreements will allow for oil and gas exploration in Libyan waters, and come three years after the two countries signed a maritime border deal, Turkish Foreign Minister Mevlüt Çavuşoğlu said after signing the MoU in Tripoli.

Egypt and Greece strongly condemned the deals, which are in disputed waters between Turkey and Libya.

"Turkey seeks once again to take advantage of the turbulent situation in Libya in order to further destabilize the Mediterranean region, and establish regional hegemony," Greek Foreign Minister Nikos Dendias said during his talks in Cairo with his Egyptian counterpart, Sameh Shoukry.