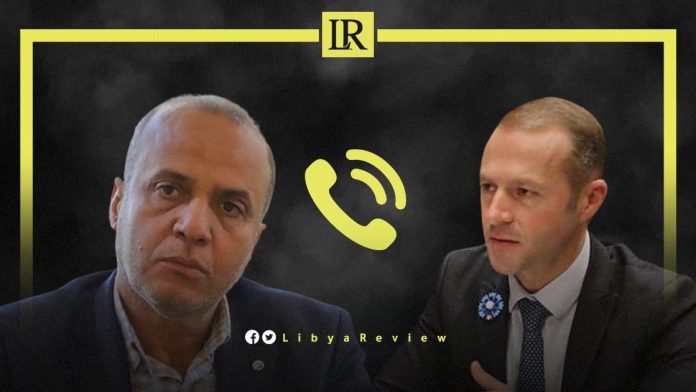 On Thursday, Deputy Head of the Libyan Presidential Council, Abdullah Al-Lafi discussed the latest developments in the political situation with France's Special Envoy to Libya, Paul Soler.

During a telephone call, the two parties discussed working to establish a mechanism for distributing financial resources transparently and fairly.

They also discussed the security file, supporting the path of the 5 + 5 Joint Military Committee (JMC), and the withdrawal of mercenaries and foreign fighters.

Al-Lafi stressed the importance of the national reconciliation project in "achieving stability in Libya, in order to reach a political solution that contributes to holding elections, according to a constitutional basis."

He pointed out that the PC is in the process of sponsoring a meeting that brings together the Libyan Parliament and the High Council of State (HCS). This is to agree on addressing controversial points, leading to consensus on a constitutional basis that will lead the country to elections.

Soler affirmed his support for the efforts of the UN Envoy, Abdoulaye Bathily and the PC, in order to find solutions that would lead the country to stability and elections. He confirmed that France "supports all solutions that come with a comprehensive agreement in which all parties participate."

Days ago, France's Ambassador to Libya, Mostafa Maharaj, and the Ambassador of the United Arab Emirates, Mohamed Ali Al Shamsi discussed the recent developments in Libya.

Maharaj said he was received by Al-Shamsi in Tunisia, where they had a "fruitful exchange on bilateral relations and developments in the Libyan file."

He said last week that Paris will play a positive role in stabilising Libya, in order to reach a political agreement in the country. The agreement aims to pave the way for holding elections according to a constitutional basis, the results of which are approved by all political parties.

This came during his meeting with Al-Mnifi, where he praised the role played by the PC in getting Libya out of the current crisis.

During the meeting they discussed the developments in the political situation, as well as the local and international efforts made by France in achieving political stability in Libya.

"These efforts aim to secure Parliamentary and Presidential elections that meet the desire of the Libyan people to choose who represents them, and implement their demands," the statement concluded.