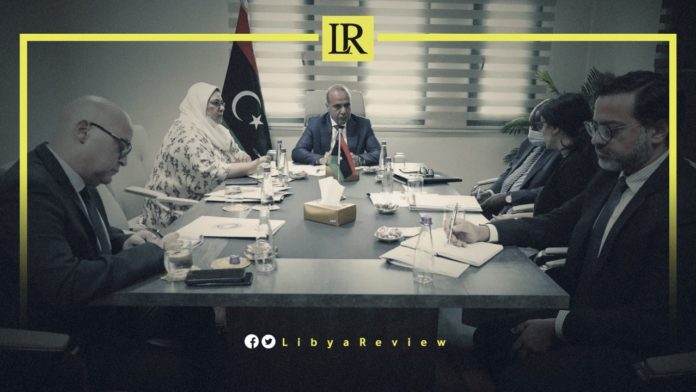 The Vice-President of the Presidential Council, Abdullah Al-Lafi, stressed the need to conduct the elections in accordance with a legal and constitutional framework that guarantees its success. He added that the results of the elections should be accepted by all political parties.
Al-Lafi pointed out that acceptance of the results of the Libyan elections will relieve the country of the transitional stages that have burdened it politically, economically, security and socially.
Notably, the Head of the Libyan Presidential Council, Mohamed Al-Mnifi, met Raisedon Zenenga, Assistant Secretary-General and Mission Coordinator, United Nations Support Mission in Libya (UNSMIL). They discussed the latest developments in Libya, especially the parliamentary and presidential elections.
According to the statement of the Presidential Council, Al-Lafi praised the successes achieved by the 5+5 Joint Military Committee (JMC) especially stopping the fighting, opening the coastal road, and exchanging detainees from both sides. He also praised the consensus that took place in Geneva last week, in the file of mercenaries and foreign fighters from Libya.
Al-Lafi explained to the United Nations (UN) delegation that the coming weeks require work to reach a comprehensive vision of the current situation, by taking decisions that meet the stage, and to ensure that the elections are held on time.
Zenenga stressed UNSMIL's keenness to hold the elections on time, with the consensus of all parties. He praised the role of the Presidential Council in supporting the electoral process in a smooth manner, which ensures the transfer of power with personalities agreed upon by the Libyans.
In a related context, the World Bank said, in its October report on the Libyan economy, that in the coming months Libya is projected to record a Gross Domestic Product (GDP) growth rate of 78.2% in 2021. However this will only be possible if the presidential and parliamentary elections, as well as the reunification of public institutions, proceed, and oil production persist.
In turn, trade and current account balances are projected to record double-digit surpluses as a share of GDP, according to the report. The fiscal balance may record a surplus as well, given the strong rebound of oil production and exports and following the devaluation of the currency. This has reduced the cost of financing public sector salaries and goods and services using dollar-denominated oil revenues.