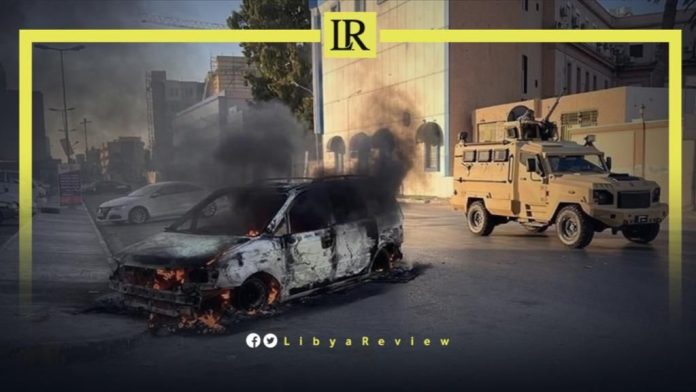 The Arab Organization for Human Rights (AOHR) in Libya has expressed its "deep concern about the outbreak of armed clashes in the city of Sabratha, western Libya."
The AOHR said in a statement on Friday that, "the clashes endanger people's property and lives."
It denounced the failure of the Ministry of Defense of the Government of National Unity (GNU) to intervene to stop the armed conflict.
It called on both the Presidential Council and the United Nations Mission (UNSMIL) to intensify their efforts to calm the fighting, restore security in the city, and protect civilians.
The organization noted that the massive military mobilization and movements, will lead to unlimited human losses.
On Friday, Libyan media sources reported that two people were killed and several wounded, as a result of clashes between militias in Sabratha, western Libya.
The Emergency and Ambulance Service confirmed the death of two people in the violent clashes.
Media sources reported that the Libyan Red Crescent has withdrawn families caught in the clashes in the city center.
The Coastal Road has been closed due to the fighting.
The Endowments Office in Sabratha announced that Friday prayers will not be held in Sabratha's Al-Atiq and Al-Mujahideen mosques.
Safety in Libya's capital, Tripoli is continuously deteriorating, with threats of kidnapping and murder a daily occurrence for residents.
In November, a stray bullet killed, Mohannad Mohamed Belaid while he sat in his car, in the Noflieen area of Tripoli. The origins of the bullet are unknown, but reports and eyewitnesses claim that the shooting came from the Camp 77 military base.
The situation in other cities is not much different. In Al-Zawiya, two young men, Ali Al-Triki and Munzer Hammad were murdered in the Al-Mutrad area, west of the city.
Over the years, kidnappings, arrests, and assassinations have increased substantially in western Libya. This is evident in the repeated statements of the Ministry of Interior, about the arrest of gangs and individuals involved in the kidnapping and extortion of expatriate workers.