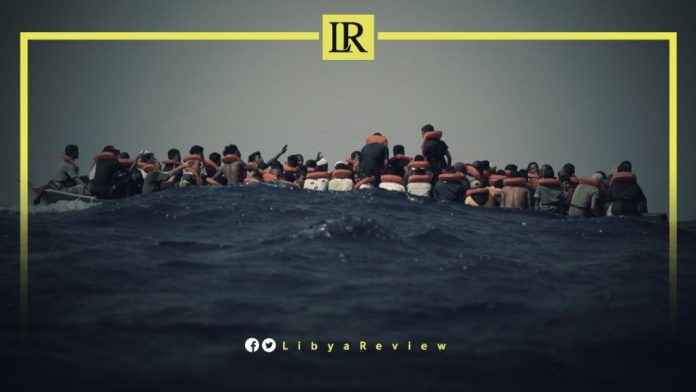 The International Organization for Migration (IOM) announced that 1,088 migrants were intercepted and returned to Libya, from 25-31 December 2022.

The Italian news agency Nova reported that the Naval forces of the Libyan National Army (LNA), in the east of the country, have intercepted and returned around 3,400 migrants in the last five weeks.

"This is significant progress in combating human trafficking along the eastern Libyan route, from Cyrenaica towards Europe," Nova said in its report.

Sources from the Ministry of the Interior said that "more than 30,000 migrants from Tripoli and about 18,000 from Cyrenaica arrived in Italy in 2022."

The last operation took place on Friday, 30 December, off the eastern coast of Libya. Naval units intercepted a boat with between 600-700 people aboard. In a statement, the Libyan Coast Guard said that it was one of the largest interceptions of migrants seeking to reach Europe via Libya.

It noted that the boat was stopped close to the Mediterranean town of Moura, 90 kilometers (56 miles) west of Benghazi.

The Libyan Coast Guard posted images showing a large, overcrowded vessel with most of those on board appearing to be young people.

Previously, the same naval forces had reported, on 26 December, another 500 migrants intercepted at the sea.

According to the Libyan office of the IOM, eastern authorities intercepted at sea 3,404 people and returned them to Libya in the last five weeks of 2022.

In August last year, Italian military vessels aided a boat crammed with 539 migrants off the southern island of Lampedusa. The boat was launched from Libyan shores.

Libya has in recent years emerged as the dominant transit point for migrants seeking a better quality of life in Europe. The oil-rich country plunged into chaos following a NATO-backed uprising that toppled and killed longtime autocrat Muammar Gaddafi in 2011.

Human traffickers in recent years have benefited from the chaos in Libya, smuggling in migrants across the country's lengthy borders with six nations. The migrants are then packed into ill-equipped rubber boats and other vessels and set off on risky sea voyages.