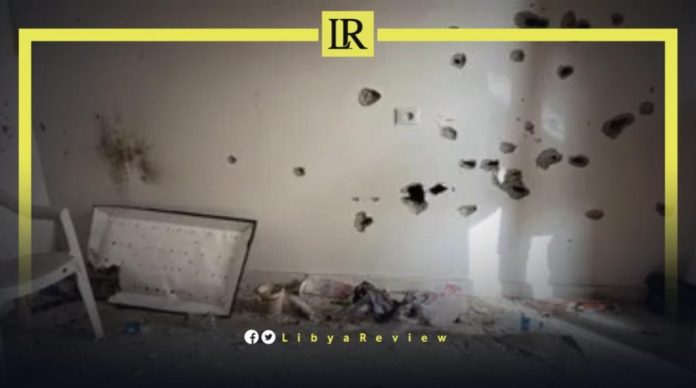 The Libyan city of Warshafana is witnessing an alarming military build-up, following a failed assassination attempt on the commander of the 3rd Infantry Battalion militia. This is expected to fuel tension between armed groups, and undermine security and instability in western Libya.

On Friday, Commander Ramzi Al-Lafaa announced that he had survived a failed assassination attempt in his home by an armed group, accusing his opponents of being behind the assassination.

Pictures circulated on social media showed militias grouping, and dozens of military vehicles belonging to the 3rd Infantry Battalion deployed in the city center. In a statement, they threatened to take the necessary security and legal measures to respond to the assassination attempt.

In Warshafana, located in western Libya, the loyalties of the armed militias are divided between the country's two rival governments, Abdel-Hamid Dbaiba in Tripoli, and Fathi Bashagha in Sirte.

This comes only two days after violent clashes erupted in the vicinity of Tripoli International Airport. Heavy clashes and explosions were heard in the civilian area of Qasr Bin Ghashir.

At least five explosions occurred, followed by gunfire during the confrontations between the 111th militia led by Abdel-Salam Al-Zoubi and the Rada militia led by Abdel-Raouf Kara, sources told Sky News Arabia. The clashes led to the killing of a young man, Mohamed Al-Muhishi, from Misrata.

The area and the road adjacent to Tripoli International Airport often become a site of clashes for influence in the Libyan capital.
The inclusion of these armed groups in the UN-led political reconciliation process is widely considered only nominal.

On 4 January, violent clashes erupted between armed groups in Al-Ajilat city, western Libya. This prompted the authorities to suspend studies in the city.


On 16 December, Libyan media sources reported that two people were killed and several wounded, as a result of clashes between militias in Sabratha, western Libya.

In August, deadly clashes erupted in Tripoli leaving a death toll of 32, with 159 injuries,

Notably, the clashes come at a time when the international community is pushing for consensus on a constitutional basis leading to elections.

Libya has been in turmoil since a NATO invasion helped topple Libyan leader Muammar Gaddafi in 2011. His death led to a decade-long rivalry between the UN-backed administration in Tripoli, and the Parliament in Tobruk. The UN-brokered reconciliation process put a caretaker unity government in charge in 2021, but the interim authorities failed to hold elections and the chaos continued.