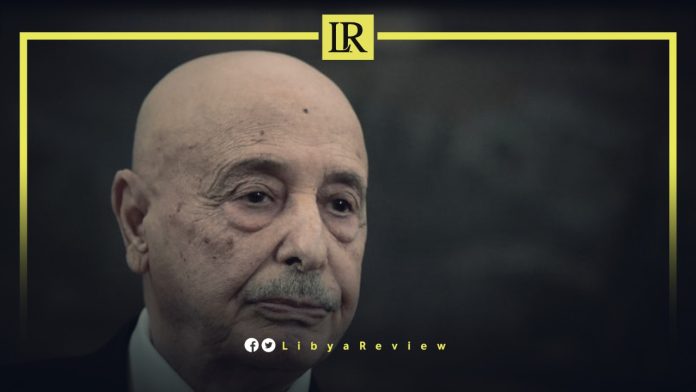 Libyan Parliament Speaker, Ageela Saleh urged the Central Bank of Libya (CBL) to communicate with the Parliament-designated government headed by Fathi Bashagha, and provide it with full support.

The statement added that Saleh met with Deputy Prime Minister, Ali Al-Qatrani. He stressed the importance of the government's communication with the Parliament's Reconstruction and Stability Committee, and the importance of cooperation between them.

They discussed l providing the necessary services for citizens, in addition to the fodder subsidy file.

Notably, Bashagha and the Minister of Electricity and Renewable Energy, Awad Al-Badri discussed cooperation with Egypt in the electricity and renewable energy sector

According to a statement, Al-Badri reviewed a letter by the Egyptian Minister of Electricity and Energy, to hold a consultative meeting to discuss joint cooperation in the electricity and renewable energy sector. The Egyptian-Libyan meeting aims to discuss the possibility of opening new horizons for Libyan and Egyptian companies. As well as enhance investments between the two countries.

Bashagha affirmed the necessity of cooperation, and benefiting from Egypt's experience in renewables, in order to contribute to advancing the economy and development.

The PM was briefed on the ministry's performance and work plans, and discussed the problems facing the electricity network. Especially regarding the Talmitha area, where more than 250 homes lost power.

Bashagha called on Al-Badri to quickly begin maintenance of the 220 kV power transmission lines in Jabal Al-Akhdar, Derna, and Tobruk.

Libya has been in chaos since a NATO-backed uprising toppled longtime leader Muammar Gaddafi in 2011. The county has for years been split between rival administrations, each backed by rogue militias and foreign governments.

The current stalemate grew out of the failure to hold elections in December, and the refusal of Prime Minister Abdel-Hamid Dbaiba, who is leading the transitional government, to step down. In response, the country's eastern-based Parliament appointed a rival Prime Minister, Fathi Bashagha, who has for months sought to install his government in Tripoli.