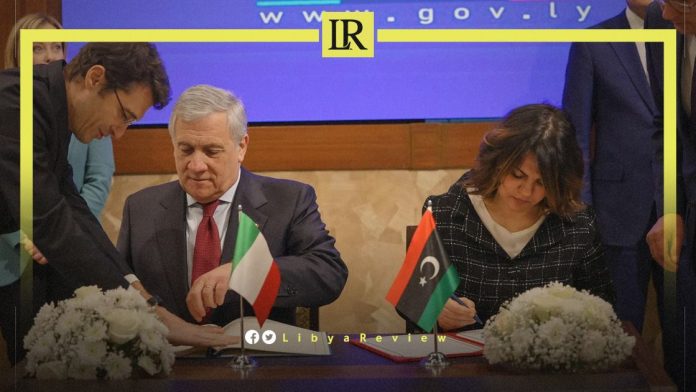 Italian Foreign Minister, Antonio Tajani, announced the signing of a memorandum of understanding (MoU) between his country's government and the outgoing Government of National Unity (GNU) to hand over five patrol boats funded by the European Union (EU) to Libya.

In a tweet, Tajani added, "we are strengthening cooperation with Libya, seeking to confront irregular migration flows." This was on the sidelines of the visit of an Italian delegation headed by Prime Minister Giorgia Meloni to the capital, Tripoli.

Earlier, Meloni said that having chosen Libya as the destination for one of the first institutional visits is proof of the priority role that the country plays for Italy and for Europe.

"Libya is a priority for Italy, for the stability of the Mediterranean, for Italian security, and for some of the great challenges that Europe is facing, such as that of the energy crisis, the Italian Prime Minister said during a joint press conference with her Libyan counterpart Abdelhamid Al-Dbaiba in Tripoli.

"Italy reaffirms its willingness to accompany the process of political stabilisation in Libya," Meloni added.

She also reiterated "Italy's full willingness to favour the legitimate path to celebrate elections and to stabilise the Libyan political framework, which represents an indispensable" objective to unleash the high potential contained in the bilateral partnership between the two countries.

The Italian Prime Minister appreciated Prime Minister Al-Dbaiba's commitment to holding elections as soon as possible, hoping that the commitment can quickly be translated into concrete programs and actions, with the mediation of the United Nations (UN).

"For Italy, without prejudice to full respect for Libyan sovereignty, a broad political-military compromise can help unblock the current stalemate," she noted.

Meloni affirmed that Rome will continue to work above all to build a greater unity of purpose of the international community on the Libyan file.

In addition, she announced that the Italian government will continue to work to keep the international community together and avoid the risk that "external influences" could destabilise the political framework in Libya.

Meloni underlined that Libya is a strategic market for Italian companies. This applies to energy but also to infrastructure, where there are many open dossiers.

"It is very important to start work on Tripoli's international airport as soon as possible because having adequate safety standards means being able to restore direct flights, a fundamental condition for connecting our countries to the North African country," Meloni concluded.