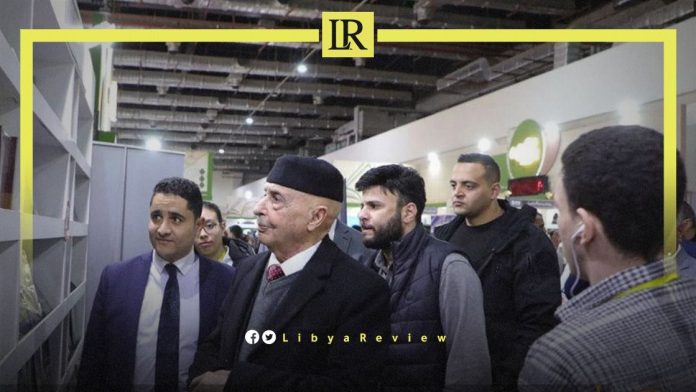 The Speaker of the House of Representatives (HoR), Ageela Saleh, and his accompanying delegation visited the Cairo International Book Fair (CIBF).

Saleh and his accompanying delegation inspected the pavilion of the University of Tobruk, the Tripoli Oya House of Printing and Publishing, the Union of Libyan Authors, and the pavilion of the Egyptian Center for Strategic Studies (ECSS). They reviewed various books and publications and expressed their admiration for ECSS's products as well as its various publications in regional and international affairs.

The visit of the Speaker of the HoR in the various exhibition halls included a tour of the participating Libyan publishing houses in the exhibition.

Saleh was received by the Head of the Union of Libyan Authors office in the eastern region and the Editor-in-Chief of Al Diwan newspaper, Ali bin Gaber.

Bin Gaber gave a briefing to the Parliament Speaker, which included an explanatory overview of the Libyan publishing houses and their publications, as well as what was achieved by participating in the Cairo International Book Fair, which is one of the oldest Arab book fairs.

Earlier this month, Saleh and the Head of the High Council of State (HCS), Khaled Al-Mishri, met in Cairo. The two officials said in a joint statement, that they have agreed to set "a clear and specific" roadmap for elections. They also agreed to create a joint committee to refer the constitutional document to the two chambers for approval.

Al-Mishri said that the new roadmap and the constitutional base that will govern the elections will be announced soon, following a meeting with Saleh, and the United Nations (UN) Envoy to Libya, Abdoulaye Bathily.

He explained that the disagreement on the constitutional basis "prevented them from presenting the roadmap to the Libyan people and in the media. The issue is now being brought up for societal dialogue, through seminars and press and media conferences."

Cairo welcomed the agreement between the two Libya chambers. The Spokesperson for the Egyptian Foreign Ministry said that the agreement "is an important step in moving forward towards holding Presidential and Parliamentary elections simultaneously in Libya as soon as possible."

Cairo reaffirmed its support for the unity and stability of Libya, as well as for state institutions. It also called for the departure of all foreign forces, mercenaries, and foreign fighters from Libyan territories.