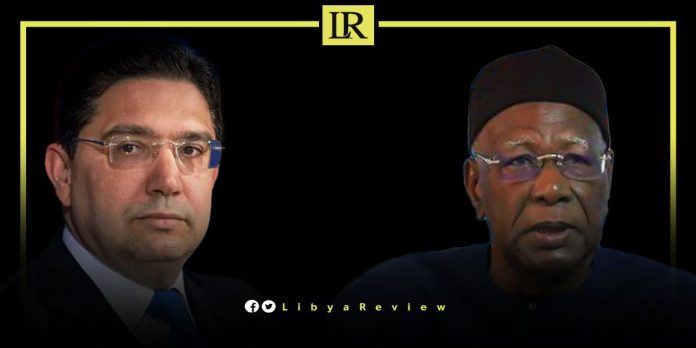 On Monday, Morocco's Foreign Minister, Nasser Bourita affirmed that only elections can solve the Libyan crisis, noting Morocco's commitment to supporting dialogue between the rival Libyan parties.

This was during a joint press conference with the Special Representative of the UN Secretary-General to Libya, Abdoulaye Bathily in Rabat. Bourita emphasized that Morocco is "supporting the territorial integrity of Libya and that the solution to the dispute should be based on respecting the country's integrity and sovereignty."

He also renewed Morocco's support for inter-Libyan dialogue, affirming the kingdom's rejection of any foreign interference in the conflict. Bourita reassured Libyans that Morocco will "continue to contribute to the UN-led political process," stressing that the country "will never take a biased position in the Libyan dossier. "

The Moroccan FM ended his comments by pledging Rabat's unwavering support of the UN-led political process. "Morocco seeks to upgrade its contributions to the process to see Libyans enjoying legitimate rights, prosperity, and peace without foreign interference," he vowed.

In turn, Bathily renewed the UN's commitment to continue to support a solution to the crisis, stressing the importance of re-establishing stability and legitimacy within Libyan institutions.

"Libya has numerous resources that would help create the condition of prosperity in the country," he said.

Bathily also cited Morocco's efforts in actively supporting the UN-led political process, by convening rival factions around the negotiating table, in hopes of brokering a compromise-based political solution. He drew attention to Morocco's mediation efforts by recalling dialogue meetings held in Bouznika and Tangier between 2020 and 2022.

Morocco has hosted several dialogue meetings, bringing together officials from the Parliament and the High State Council (HCS) to discuss a possible consensus on ending the crisis.

Bathily emphasized the need to intensify dialogue between the rival governments. He reassured them that his discussions with partners within the international community – including Morocco – point to a mutual commitment to support for the UN-led political process to end the Libyan crisis.

Libya's current political stalemate grew from the failure to hold elections in December 2021 and Prime Minister Abdel-Hamid Dbaiba's refusal to step down. In response, the country's eastern-based Parliament appointed Fathi Bashagha, who has sought to install his government in Tripoli for months.

The protracted stand-off between the two governments led to bouts of clashes in Tripoli last year, risking the return of civil war to the oil-rich nation after months of relative calm.

The North African nation has plunged into chaos after a NATO-backed uprising toppled and killed longtime leader Muammar Gaddafi in 2011. Libya has been virtually ruled by a set of rival militias and armed groups in the east and west.