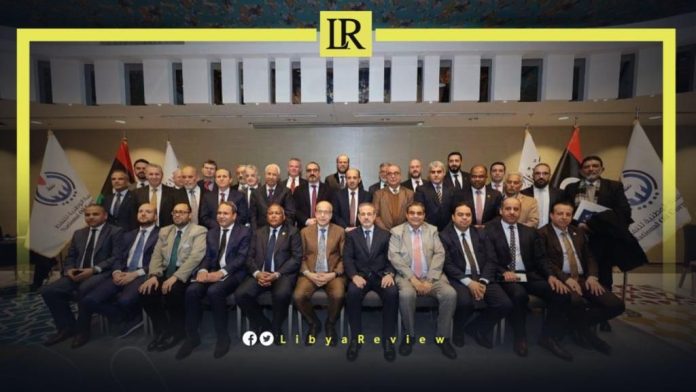 On Friday, Libya's National Oil Corporation (NOC) held the Oil and Gas Sector Support Forum.

The forum was held with the participation of the Central Bank of Libya (CBL), the Libyan Audit Bureau, a number of ministers from the Government of National Unity (GNU), and the Libyan Investment Authority (LIA). The Libyan Foreign Bank, several international banks, and international oil companies Eni, Total, ConocoPhillips, Repsol, OMV, and Wintershall also participated.

Local companies operating in the sector, including Zueitina, Al Waha, Arabian Gulf, Akakus, Mellita, Al Sarir, Al Harouge, Al Mabrouk took part in the conference.

The forum aims to "present NOC's tripartite plan and vision to increase production in the oil and gas sector. It also aims to support the banking sector and various financial institutions for the corporation's programs and projects."

One of the objectives of the forum is also to "discuss the partnership between the Libyan private sector and foreign companies, with the aim of activating partnerships."

The Chairman of the NOC, Farhat Bengdara stressed the importance of holding the forum during this period. He praised the role of the government, the CBL and the Audit Bureau in "stabilising and supporting the sector, so that it can lift the force majeure, reactivate agreements with international companies, and address all the difficulties that the institution faced over the years."

Notably, Bengdara praised the role of the Libyan National Army (LNA) and the Petroleum Facilities Guard in securing oil fields.

He noted that the LNA's efforts have "contributed to the stability of oil production and exports, and encouraged the return of international companies to Libya."

Last month, the NOC noted that it expects to achieve net revenues estimated at $13 billion dollars from its deal with Eni. Bengdara said that the value of the investments included in the agreement amounts to $8 billion dollars within 3 years.

During a press conference with Eni CEO, Claudio Descalzi, Bengdara added that the agreement "includes the development of gas fields with reserves close to 6 trillion cubic feet, and a production capacity of 750 million cubic feet per day for a period of about 25 years."

Bengdara called on international companies to "quickly resume their activity in the country, according to the declaration of lifting force majeure in December."

The development of the agreement with Eni is the first of its kind in nearly a quarter of a century. This is due to the oil and gas sector suffering from political and security turmoil, leading to foreign companies abandoning Libya.

According to Reuters, the deal, signed during a visit to Tripoli by Italy's Prime Minister, Giorgia Meloni, aims to increase gas output for the Libyan domestic market, as well as exports.

"This agreement will enable important investments in Libya's energy sector, contributing to local development and job creation while strengthening Eni's role as a leading operator in the country," said Descalzi.