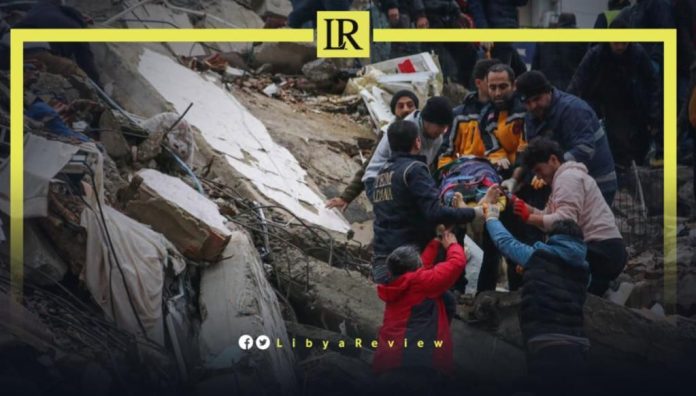 On Monday, the Libyan Parliament-designated government, headed by Fathi Bashagha, expressed its "sincere condolences and sympathy to the peoples and governments of Syria, Turkey, and Lebanon for the victims of the catastrophic earthquake that struck the Mediterranean region."

The earthquake resulted in thousands of deaths and injuries in Syria and Turkey. The government also expressed its solidarity and support during this catastrophe, and hopes for a speedy recovery for the injured.

A devastating earthquake measuring 7.8 on the Richter scale struck southern Turkey, and northern Syria at dawn on Monday. 284 people died and more than 2,300 others were injured, according to Turkish Vice President, Fuat Oktay.

The earthquake struck the state of Kahramanmaraş, with a magnitude of 7.4. Oktay told reporters that schools and university dormitories were not damaged, but schools will be closed in 10 states for a week.

The Turkish Disaster and Emergency Management Authority reported that 32 aftershocks occurred after the earthquake, the largest of which was 6.6 on the Richter scale.

Commenting on the earthquake, Turkish President Recep Tayyip Erdogan said that ambulances and rescue teams were sent immediately to the areas affected. "We hope to overcome the disaster with the least possible losses," he added.

The quake was felt in Lebanon, Jordan, Iraq, Cyprus, Armenia, Syria, and the greater Cairo area. Residents in Beirut evacuated their homes for fear of being hit by the earthquake.

The German Center for Geosciences Research said that the earthquake shook central Turkey, and occurred at a depth of ten kilometers.

The Geological Survey of Cyprus announced that a small tsunami occurred off the coast of Famagusta, in the north of the country. Christodoulos Hadjiorgiou, Director of the center, said that "no losses or damages were recorded as a result of the tsunami." He pointed to the possibility of more serious damage, and that the Geological Survey is monitoring the situation.