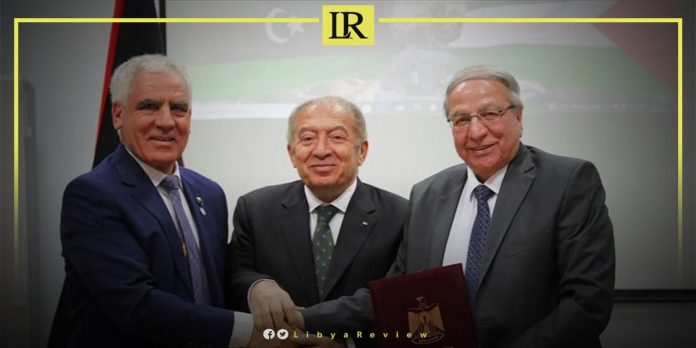 The Head of the Libyan General Union of the Chambers of Commerce, Industry and Agriculture, Mohamed Raied signed a cooperation agreement with his Palestinian counterpart, Omar Hashem on facilitating investments, and holding economic forums and exhibitions.

Palestinian President, Mahmoud Abbas hosted Raied and a delegation of Libyan businessmen.

According to the Union's media office, Abbas welcomed the Libyan delegation, and expressed his support for the bilateral agreement. He confirmed that this "is in the interest of supporting the steadfastness of the Palestinian people."

Raied expressed his thanks for the hospitality of the Palestinians, and confirmed the Libyan leadership and people's support for Palestine. He expressed his keenness to activate economic cooperation, and stressed the intention of the Libyan union to "facilitate all means with Hashem, to serve the interests of the two countries."

They agreed to organise a visit for Palestinian businessmen to Libya, establish economic forums, and promote the products of the two countries. This will begin with the start of joint projects in various industries, especially the pharmaceutical industry.

In December, Emad Al-Trabelsi, the Government of National Unity's nominee for Interior Minister, said that the department is working to make it easier for Palestinian nationals to enter Libya.

The comments by Al-Trabelsi reportedly came during a meeting with Mohamed Rahal, the Chargé d'Affaires of the Palestinian Embassy in Libya, and his accompanying delegation on Sunday. The two sides addressed strategies to improve and advance their bilateral relations as well as the state of the Palestinian community in Libya.

Al-Trabelsi stated, "The Ministry of Interior would never hesitate in aiding Palestinians," indicating that efforts are being made to improve collaboration between the two nations.

"The cause of the Palestinians is also our cause." Rahal praised the Ministry of Interior's efforts to safeguard embassies and diplomatic missions, and he said that he was pleased to hold the meeting and bring up a number of crucial topics.