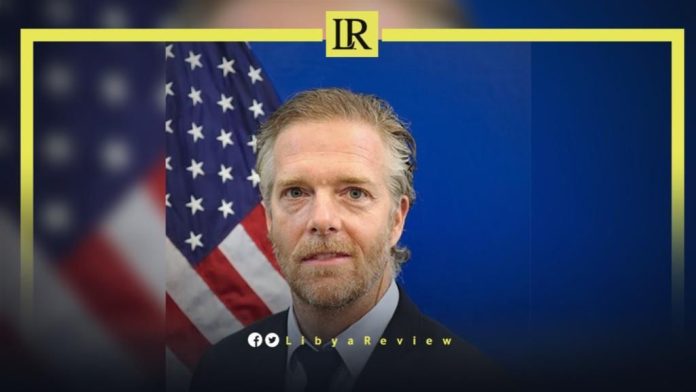 On Saturday, the Chargé d'Affaires of the US Embassy to Libya, Leslie Ordeman said that it "has been 12 years since the revolution in which the Libyan people rose up to demand a better future."

In a statement on the 12th anniversary of the 17 February Revolution, Ordeman stated that the US "continues to stand with the Libyan people in their desire for a democratically elected government, that can deliver the peace and prosperity that they deserve."

He stressed that "it is time for Libya's leaders to put the interests of Libyans first, after years of stalled progress. A democratically elected government is needed to achieve national unity, inclusive and equitable development, and the full restoration of Libya's sovereignty over its territory and its borders."

"We support efforts underway, with UN facilitation, to produce compromise solutions that will result as soon as possible, in a credible path to elections. Elections are not an end in themselves, but they are an important step in advancing Libya's political transition," according to the statement.

In a related context, the UN Support Mission to Libya (UNSMIL) said that the past twelve years were "marred by a crisis that affected all Libyans, and the affirmation of a popular aspiration for democracy, peace, and justice."

In a statement, UNSMIL stated that "those aspirations have yet to be realized – and, as the country has stalled in a state of continuous transition, daily life – in many ways – remains difficult for people."

"The economy is unstable. Basic services like water and electricity aren't reliably delivered, and healthcare is under-resourced. Judicial processes are stalled, and human rights aren't respected amidst security concerns. People are losing patience," UNSMIL noted.

"It is still possible to achieve people's aspirations and lasting peace. Libya's leaders must put the country's interests above their own, end this political impasse, and empower the people to choose their own leaders in 2023 through inclusive elections," it concluded.

Notably, Friday marked the 12th anniversary of the 2011 uprising. Many cities witnessed major celebrations and in the capital, Tripoli, residents took to the streets to celebrate, with squares decorated with national flags and lights.

The anniversary of the uprising comes amid the continuing political stalemate, and government division since elections could not be held in December 2021.

The country has split in two in the chaos that followed the civil war, each backed by different rogue militias and foreign governments.

The UN Special Envoy for Libya warned that "signs of partition are already evident and urged influential nations to pressure Libya's rival leaders to urgently finalize the constitutional basis for elections."

On 17 February 2011, Libya descended into a series of protests, part of the wider Arab Spring. The subsequent uprising and civil war overthrew Colonel Moammar Gaddafi's 42-year reign, with the aid of NATO.

A coalition including France, Britain, and the United States launched the first strikes against Gaddafi's forces under the pretext of a United Nations resolution to protect civilians on 19 March. NATO assumed control of the air campaign over Libya on 31 March.