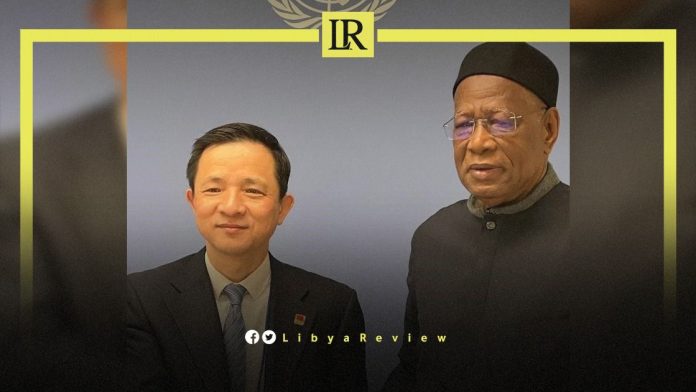 The United Nations (UN) Special Representative of the Secretary-General for Libya, Abdoulaye Bathily, agreed with the Deputy Permanent Representative of China to the UN, Ambassador Dai Bing to support a national solution to the crisis in Libya through the 2023 elections.

In a tweet, Batelli said that he met Bing "in complying with the principle of African solutions to African problems, we agreed to support a home-grown solution to the crisis in Libya through elections in 2023."

Bathily also met with the United States (US) Secretary of State, Antony Blinken, in Washington to discuss the Libyan people's demand for presidential and parliamentary elections.

During the talks, the Secretary of State praised the UN mission's great efforts to promote consensus among Libyans to enable elections in 2023.

"The US stands firmly with the Libyan people in their demand to finally choose their own leaders, Blinken said in a tweet.

Ahead of his briefing to the UN Security Council, Bathily also met with senior officials from Egypt, France, Germany, Italy, Qatar, Türkiye, the United Arab Emirates (UAE), and the United Kingdom (UK) on Friday to discuss the Libyan file.

During his talks, the UN Envoy updated the participants on his recent consultations with Libyan leaders and institutions in order to promote consensus leading to elections in 2023, the US Department of State said.

It said that participants took note of the achievements made by the Libyan House of Representatives (HoR) and High Council of State (HCS) in Egypt-facilitated negotiations on a constitutional basis for elections, and consulted on the next steps in finalising election preparations.

In remarks to the visiting officials, Deputy Secretary of State Wendy R. Sherman underscored the US agreement with Bathily that Washington should help make 2023 the year of free and fair Libyan elections.

Oil-rich Libya has remained in turmoil since 2011 when longtime ruler Moammar Gaddafi was ousted after four decades in power.

The current stalemate grew out of the failure to hold elections in December, and the refusal of Prime Minister Abdelhamid Dbaiba, who is leading the transitional government, to step down. In response, the country's eastern-based Parliament appointed a rival Prime Minister, Fathi Bashagha, who has for months sought to install his government in Tripoli.