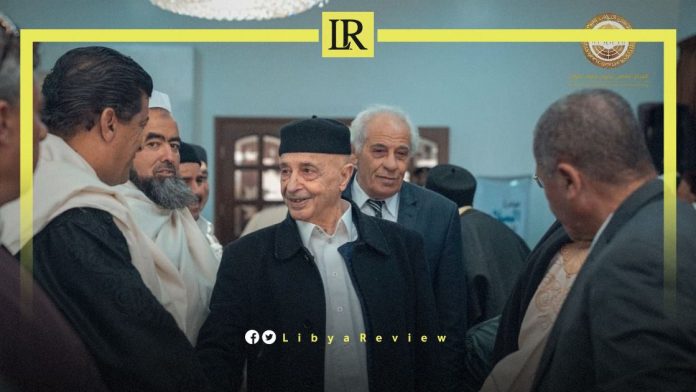 The Speaker of the Libyan Parliament, Ageela Saleh said that the 13th constitutional amendment "meets the wishes of the Libyans to hold both the Presidential and Parliamentary elections."

This came during his meeting today in Al-Quba city with members of the National Commission for Libyan Sheikhs and Notables.

The Parliament approved the 13th constitutional amendment as a constitutional basis for elections, which was accepted by the High Council of State (HCS).

The Commission members briefed Saleh on their political vision regarding developments in the crisis.

Saleh called on them to "unify ranks, participate in resolving the crisis, and support holding simultaneous Presidential and Parliamentary elections while supporting the intra-Libyan dialogue."

According to the Commission, Saleh spoke about "the importance of the 13th constitutional amendment. As this amendment meets the wishes of the Libyans to hold the Presidential and Parliamentary elections."

In turn, they affirmed their full support for the Parliament, as the "only legitimate body elected by the Libyan people," and reaffirmed their "readiness to actively participate in national reconciliation."

On Thursday, the HCS voted to approve the 13th Constitutional Amendment which is set to provide a basis for elections.

The amendment was passed during an emergency session chaired by HCS Head, Khaled Al-Mishri in Tripoli.

The HCS reported that during the session the 13th Constitutional Amendment was approved by a majority of members, after a quorum was completed. It added that they agreed to start forming a committee to draft electoral laws, to be approved during the next session.