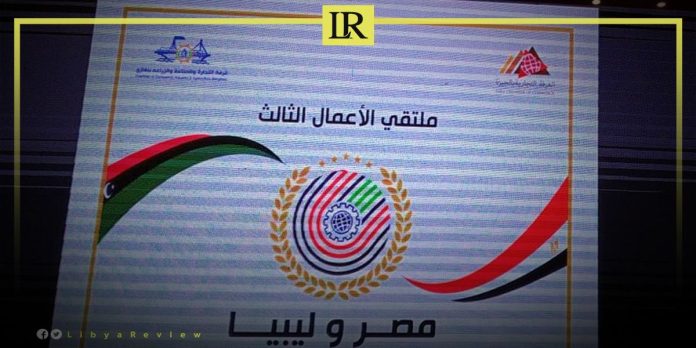 The Chairman of the Benghazi Chamber of Commerce, Industry, and Agriculture, Saleh Al-Obeidi said that Libya's second-largest city, Benghazi, will soon host the "Made in Egypt" exhibition.

This statement came during the Egyptian-Libyan business forum, under the title "Egypt and Libya Towards Integrated and Sustainable Development." Al-Obeidi called on Egyptian businessmen to "enter the Libyan market and cooperate with Libyan businessmen through commercial and industrial partnerships."

He confirmed that "it was agreed to implement the mechanism of direct meetings with Egyptian and Libyan businessmen in all fields, to lay the foundations for direct cooperation between the two sides."

He noted that the two countries are "seeking to implement joint projects. The meetings will discuss labour, investment, industry, and trade cooperation."

An executive committee will also be formed to follow up on the implementation of the forum's recommendations.

On Saturday, the Egyptian-Libyan Business Forum was inaugurated in the presence of the President of the Federation of Chambers of Commerce, Industry and Agriculture, Mohamed Al-Raid, and the Libyan Consul in Alexandria.

Vice President of the General Union, and Chairman of the Board of Directors of the Giza Chamber of Commerce revealed plans to increase trade and open the Libyan market for Egyptian businessmen.

He pointed out that Libyan businessmen and companies from eastern, western, and southern Libyan regions will participate in the forum.

In October, the Libyan International Directory and the Egyptian Expo Line organized the Libya Medical Exhibition and Conference from 17-20 October 2022 in Benghazi.

The exhibition was held under the auspices of the Libyan Minister of Health, the Libyan-Egyptian Joint Economic Chamber, and both countries' medical unions.

It included three major activities for the healthcare service, including supplies, treatment, and scientific development. It also included the Libya Medical Exhibition, the Medical Exhibition for Healthcare Providers, and the Specialized Conference for Healthcare.