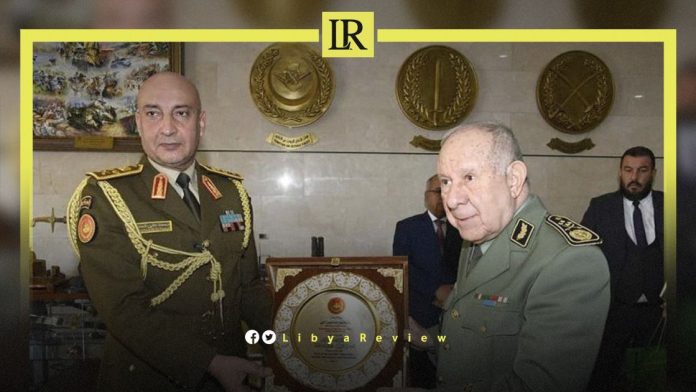 On Thursday, Algeria's Army Chief of Staff, Lieutenant General, Said Chengriha said that Libya "has always played an important role in resolving conflicts and bringing the views of all the African countries closer together."


The Algerian military official hoped that the neighbouring country will "restore its positive role in the region," calling on all African countries to "accelerate their efforts to put an end to the current stalemate in Libya."


Chengriha's remarks came during his meeting with his Libyan counterpart of the Government of National Unity (GNU), Lieutenant General Mohamed Al-Haddad. The meeting was attended by the Secretary General of the Ministry of National Defence, the Commander of the National Gendarmerie, and department heads from the People's National Army and the Algerian Ministry of Defence.

He affirmed that "holding elections in Libya is the main step to getting out of the decade-long crisis in the country." He also praised the "deeply-rooted fraternal relations between Libya and Algeria."

In addition, Chengriha stressed the importance of this meeting, which "is an opportunity to exchange views on the development of bilateral cooperation." He also commended efforts made by the two parties to "preserve the historic relations between the two brotherly countries in light of the current critical circumstance that the region is going through."

"Our common history, and the support of the Libyan people for the Algerian liberation revolution requires us, as officials in both countries, to work together to resolve crises that affect the security of the region and destabilise it. Especially when it comes to helping to provide political, diplomatic, and security mechanisms, to engage in peaceful endeavours that benefit the peoples of the region, especially Libya," the Algerian official noted.

In turn, Al-Haddad expressed his joy in visiting Algeria, praising the depth of relations between the countries, which was reflected in the level of military cooperation between armies.

Libya has been in chaos since a NATO-backed uprising toppled longtime leader Muammar Gaddafi in 2011. The county has for years been split between rival administrations, each backed by rogue militias and foreign governments.

The current stalemate grew out of the failure to hold elections in December, and the refusal of Prime Minister Abdel-Hamid Dbaiba, who is leading the transitional government, to step down. In response, the country's eastern-based Parliament appointed a rival Prime Minister, Fathi Bashagha, who has for months sought to install his government in Tripoli.