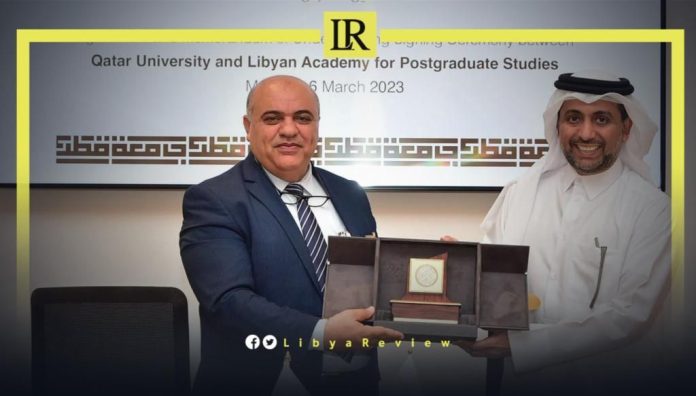 The Libyan Academy for Graduate Studies and Qatar University have signed a joint cooperation agreement for scientific research.
The agreement was signed by the President of the Libyan Academy, Professor Ramadan Al-Madani and the President of Qatar University, Dr. Hassan Rashid Al-Derham in the presence of a number of university and academy officials.
The agreement included the "exchange of experiences, including publications and periodicals, and the organisation of joint conferences and seminars between Qatar University and the Libyan Academy."
The agreement also included the "joint supervision of doctoral students in the industrial engineering program, the ability and control program, and the information technology program for students of the School of Applied Sciences and Engineering. As well as the introduction of an external examiner from Qatar University for master's and doctoral students."
Last month, the Official Spokesman for the Qatari Foreign Ministry, Majid Al-Ansari revealed that Mohammed bin Abdulaziz bin Saleh Al-Khulaifi, Assistant Foreign Minister for Regional Affairs, is set to make an upcoming visit to Washington in order to attend a meeting of the International Contact Group for Libya (ICG-L).
In press statements to the Turkish-based Anadolu News Agency, the Qatari diplomat will discuss the latest developments in the Libyan crisis with a number of US State Department officials.
He stated that "Qatar attaches great importance to Libya, which is evident in its keenness to attend such a meeting in Washington, with a view to advancing international efforts to reach a consensual solution to the Libyan crisis."
He stressed his unwavering support to hold Presidential elections, "as it is the only way to achieve stability in Libya."
In November, the UN Envoy to Libya and the Head of the United Nations Mission in Libya (UNSMIL), Abdoulaye Bathily met with the Qatari Foreign Minister, Mohammed Bin Abdulrahman Al-Thani in Doha.
Bathily said that they had agreed on the "need for Libyan actors to take swift action for the finalisation of the constitutional basis for elections." They also affirmed the need for the "coordinated support of the international community to the electoral process in Libya."