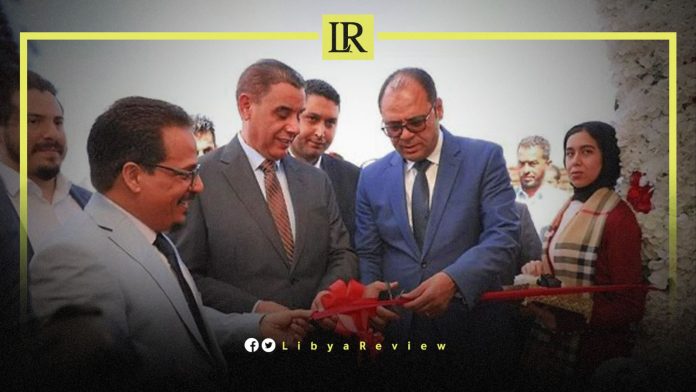 The Deputy Prime Minister of the Libyan Parliament-designated government, Ali Al-Qatrani accompanied by the Minister of Health, Othman Abdel-Jalil inaugurated the dialysis department at the Al-Kish Specialist Center in Benghazi.

The inauguration was attended by the Director General of the Center, Mari Al-Fassi, Director of the Military Medical Services Department, Major General Saad Buhita, and the health advisor to the deputy prime minister Dr. Al-Senussi Al-Maghribi.

Al-Qatrani conducted an inspection tour of the department and its water treatment room. He listened to detailed explanations about the mechanism of its work.

During his tour, he visited several patients, and toured the rest of the center's departments, including the analytical laboratory and the tomography department, which he opened with the support of the government.

During his tour, Al-Qatrani praised all the efforts made by the Minister of Health, in support of the development of the health sector in Libya.

He confirmed that the opening of the dialysis department comes "within the steps taken by the government and its support for the health sector in Libya and the provision of all its needs and requirements, within the framework of its efforts to improve healthcare throughout the country."

On 1 March, the Commander-in-Chief of the Libyan National Army (LNA), Field Marshal Khalifa Haftar inaugurated the 15 October Military Hospital in Benghazi.

The opening of the hospital was attended by a number of personalities and military leaders. A statement by the LNA media office added that the hospital was equipped with the latest medical devices and equipment.

Haftar praised the efforts made to equip the hospital according to international standards.

Libya has been in chaos since a NATO-backed uprising toppled longtime leader Muammar Gaddafi in 2011. The county has for years been split between rival administrations, each backed by rogue militias and foreign governments.

The current stalemate grew out of the failure to hold elections in December 2021, and the refusal of Prime Minister Abdel-Hamid Dbaiba, who is leading the transitional government, to step down. In response, the country's eastern-based Parliament appointed a rival Prime Minister, Fathi Bashagha, who has for months sought to install his government in Tripoli.