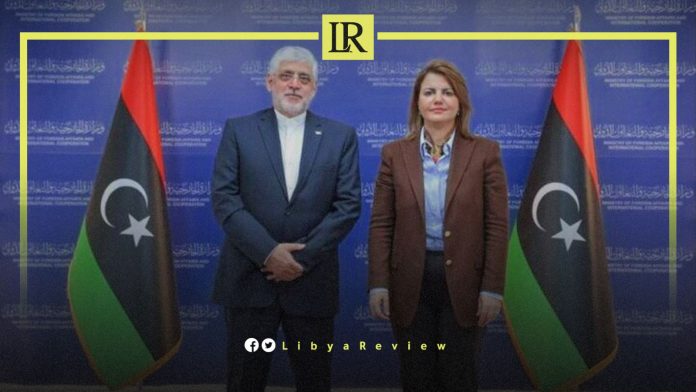 The Libyan Minister of Foreign Affairs, Najla Al-Mangoush announced that efforts are underway to resume the work of the Iranian Embassy in the capital, Tripoli.

This came during her meeting with Iran's Ambassador to Libya, Mohamed Reza on Sunday.

The Libyan Foreign Ministry said that the two discussed strengthening bilateral relations, the activation of the joint economic committee, and arrangements for the reopening of the Iranian Embassy in Tripoli.

The meeting also tackled regional and international developments. Al-Magnoush said Libya "welcomes the re-establishment of relations between Saudi Arabia and Iran," describing the agreement reached last week as "significant for the stability of the region."

The Iranian Embassy closed its doors in wake of the February 2011 revolution, following remarks by former Mufti, Sadiq Al-Ghariani who accused Tehran of "spreading Shiism in Libya."

In February 2015, the residence of the Iranian Ambassador was attacked by a car bomb, resulting in minor damage. IS claimed responsibility for the attack.

In January, Iranian Minister of Culture and Islamic Guidance, Mohammad Mehdi Esmaeili urged for the expansion of cultural exchange between Iran and Libya. This was during a meeting with his Libyan counterpart, Mabrouka Toghi Othman.

The meeting was held concurrently with the event designating Nouakchott, the capital of Mauritania, as the Islamic World's 2023 Cultural Capital.

Esmaeili referred to the meeting as "the start of a new chapter in creative and cultural connections between Iran and Libya, specifically in the fields of cinema, poetry, literature, and visual arts." He also mentioned the cultural and artistic capacities between Iran and Libya.

Othman emphasized the importance of conducting calligraphy exhibitions in Libya, and said that such cultural initiatives "increase awareness of the aesthetic and cultural diversity of Iranian artists among people in North Africa."

Libya has been in chaos since a NATO-backed uprising toppled longtime leader Muammar Gaddafi in 2011. The county has for years been split between rival administrations, each backed by rogue militias and foreign governments.

The current stalemate grew out of the failure to hold elections in December, and the refusal of Prime Minister Abdel-Hamid Dbaiba, who is leading the transitional government, to step down. In response, the country's eastern-based Parliament appointed a rival Prime Minister, Fathi Bashagha, who has for months sought to install his government in Tripoli.