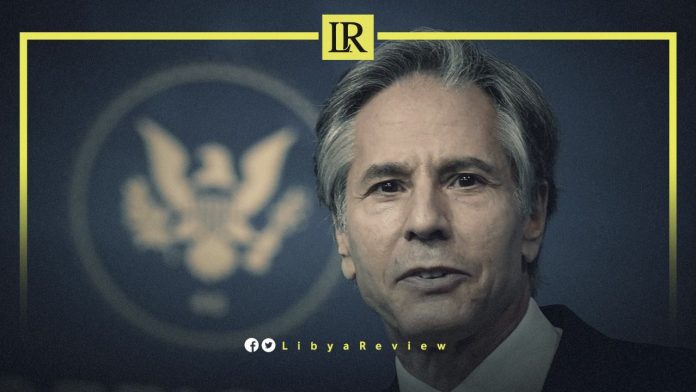 The US Secretary of State, Anthony Blinken stated that he was unable to give a specific timetable for the reopening of the US Embassy in Libya.

In a press statement, Blinken stressed the need for "a continuous diplomatic presence inside Libya, in light of the current moves of the UN Envoy, Abdoulaye Bathily."

"There may be a way forward towards moving Libya to a better direction, including holding elections to have a legitimate government, and our diplomats are deeply involved in that," he added.

Blinken told a senate committee on Wednesday that the US was actively working to reopen its embassy in Libya, in part so it could better support the prospect of Libyan elections. The American Embassy in Tripoli was closed in 2014, following violent clashes between militias.

UN Assistant Secretary of State, Barbara Leaf described Bathily's new political push as "an excellent opportunity" to move towards elections in Libya this year.

In statements to Reuters, Leaf talked about her visit to Libya this week, where she met Libyan leaders "to convey very forthrightly our expectations."

She added that "despite scepticism after years of failed efforts to get Libyan political leaders to accept elections that might end their power, Bathily had 'eyes wide open' about the challenges."

Leaf stated that "unlike in the past, the international community was more aligned over Libya." She said that "while there was no push yet for sanctions against spoilers, that might come eventually."

During their meeting, Bathily discussed the latest developments in the political situation, and ways to facilitate holding elections in 2023.

"I was pleased to meet Assistant Secretary Leaf of the US today at UNSMIL. We exchanged views on how to further the political process in Libya to lead the country to elections this year. I expressed appreciation for the US support to the work of UNSMIL in Libya," Bathily tweeted.


Libya has been in chaos since a NATO-backed uprising toppled longtime leader Muammar Gaddafi in 2011. The county has for years been split between rival administrations, each backed by rogue militias and foreign governments.

The current stalemate grew out of the failure to hold elections in December 2021, and the refusal of Prime Minister Abdel-Hamid Dbaiba, who is leading the transitional government, to step down. In response, the country's eastern-based Parliament appointed a rival Prime Minister, Fathi Bashagha, who has for months sought to install his government in Tripoli.