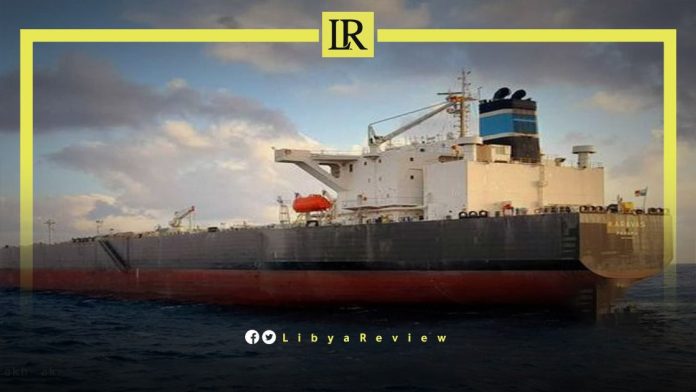 On Saturday, an official source at Tobruk's Hariga port confirmed that the oil tanker, Aravas had anchored at the port's berth to ship 600,000 barrels of oil to Italy.

The source added, in a statement to Akhbar Libya 24, that the tanker is the first in the month of Ramadan and the fourth in March. The source pointed out that it came from Greece, and bore the flag of Panama.

The source stated that Saturday's production received from the Masala and Sarir fields through a pipeline with a length of 513 km, and a diameter of 34 inches has reached 210,000 barrels.

He pointed out that shipping and export operations are carried out in accordance with the precautionary steps to combat the COVID-19 pandemic, as well as preserving the environment, which are among the priorities of the Arabian Gulf Oil Company (AGOCO).

The Italian Trade Agency (ITA) confirmed that Italy was the largest trading partner of Libya, in the first eleven months of 2022.

ITA explained that the volume of trade between Italy and Libya amounted to €11.09 billion euros, an increase of 67.38 % compared to the same period in 2021.

It added that the Italian market share reached 23.19%, ahead of China, which recorded an increase of 9.22%, with a market share of €4.41 billion, and Greece which recorded 8.31%, with €3.97 billion.

The agency said that Italian exports to Libya recorded a 73.69 % growth, compared to the same period in 2021, reaching €1.94 billion and a market share of 13.11 %.

Italy, according to the ITA, ranked third in suppliers to Libya, with a total of €2.46 billion euros and 16.44 %. This is after both Turkey, with a market share of 16.64 %, and China with €1.97 billion and 22.49 % and a market share of 13.32 % compared to the first eleven months of 2021.

Greece and Belgium remain in fourth and fifth positions, respectively, with 11.78 % and 8.17 % market share. In contrast, imports to Italy from Libya grew by 66.1 % to €9.15 billion.

In 2022, Italy held first place for Libyan exports with a market share of 27.7 %, ahead of Spain (10.51 % and €3.5 billion), Germany (9.57 %and €3.16 billion), and China (7.39 % and €2.44 billion).