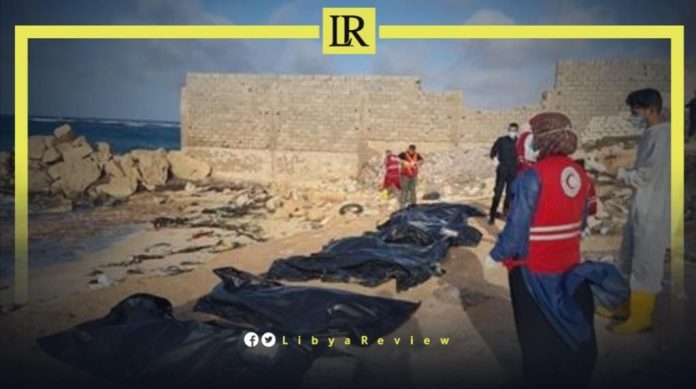 On Saturday, the Libyan Red Crescent said it had recovered 17 bodies from the seashore of Sabratha city, likely to belong to immigrants headed to Europe.

The Red Crescent of Sabratha noted that it has received a report about the sinking of a migrant boat on the shores of the city.

The process of recovering the bodies took place in the presence of the Public Prosecution and the Sabratha police station.

The Red Crescent stated that the bodies were transferred to designated places, in cooperation with the local authorities, to complete the rest of the legal procedures.

"The bodies were recovered from the seashore, despite the difficult weather conditions," the statement concluded.

Waves of immigration increased from Libya to European countries, especially Italy.

Italy's Deputy Prime Minister and Minister of Foreign Affairs, Antonio Tajani, said that there is a very tricky situation in the country due to the increase in "illegal" immigration from Libya and Tunisia.

In statements to Italian TV channel Rete 4's Forehand-Backhand chat show, Tajani added "unfortunately they all arrive in Italy, and while the European Union (EU) has not shown sufficient solidarity with us up to now, now it is beginning to understand this is necessary."

"These people do not stay on Lampedusa," Tajani underlined, referring to the Italy's tiny, southernmost island which lies between Sicily Tunisia and Libya, where many thousands of boat migrants arrive annually.

The Italian Minister stressed that halting the flow of "illegal" migrants to his country across the Mediterranean is mainly linked to the improvement of the situation in Libya and Tunisia.

Tajani confirmed that they have "made great efforts at all levels to achieve security and stability in Libya." He expressed Italy's desire to "involve all influential countries in Libyan affairs to contribute to the establishment of peace and stability in the country."

The Foreign Minister indicated that "if the situation in Libya stabilises, this will reflect positively on the security of North Africa as a whole, and countries south of the Sahara."

The Italian Minister added that Rome considers the possibility of concluding bilateral agreements with some countries to encourage the return of "illegal" immigrants.

He expressed his country's understanding of the crises facing immigrant countries of origin such as famines, wars, and earthquakes, explaining that Italy is working on a great plan for the development of Africa.

The Italian police stated that 53.310 migrants landed in Italy in 2022.