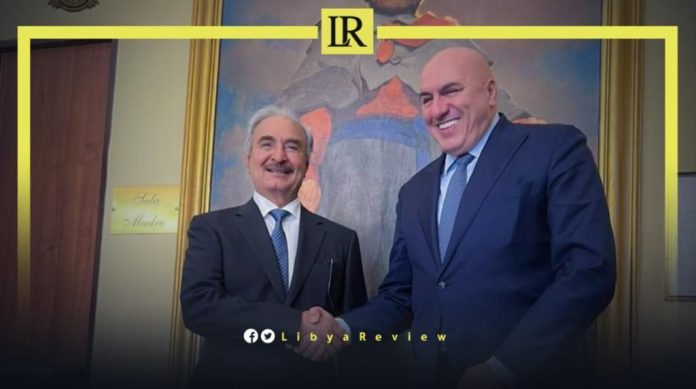 On Friday, the Commander-in-Chief of the Libyan National Army (LNA), Field Marshal Khalifa Haftar held a meeting with Italian Minister of Defence, Guido Crosetto, as part of his official visit to Italy.

The meeting was attended by the delegation of the LNA's General Command, the Deputy Chief of Staff, and senior officials at the Italian Ministry of Defence.

The LNA's media office said in a statement that Crosetto "stressed the need to strengthen the relationship that the Italian government enjoys with Libya, especially with Haftar." He called for the "continuation of joint work to combat extremism, and limit illegal immigration."

Crosseto appreciated the role of Haftar in defeating terrorist groups in Libya, due to the great importance of stabilising the security of the entire region.

The two military leaders discussed the importance of forming joint committees to monitor and secure the southern Libyan borders, to enhance the national security of both countries.

Crosetto praised the role of the Commander-in-Chief in promoting stability, and his support for the United Nations Support Mission in Libya (UNSMIL), and its call for holding elections this year.

Notably, Haftar met with Foreign Minister, Antonio Tajani on Wednesday evening. He then met with Prime Minister Giorgia Meloni for two hours at Palazzo Chigi.

The report noted that Tunisia comes first in total migrant departures to Italy, with 24,383 as of 2 May. While Libya comes second with 16,637 migrants, an increase of 166% compared to last year.

The discussions focused on "the unprecedented growth of the migratory phenomenon towards Italy."

More than half of the new arrivals, around 10,000 (mainly Egyptians, Bangladeshis, and Syrians) left from eastern Libya, which is controlled by Haftar.

According to the Italian newspaper La Repubblica, Haftar and the Italian leaders discussed a number of files including the unprecedented rates of the migratory flow towards Italy.

Haftar and Meloni also discussed ways of political stabilization in Libya, in addition to the ongoing conflict in Sudan.

During the meeting, Meloni confirmed her country's support for the United Nations' plan to revitalize the political process that could lead to presidential and parliamentary elections by the end of 2023 in Libya, according to Italian news agency Ansa.

Italian news agency Nova reported that Meloni's meeting with Haftar was originally scheduled to take place in January, but had been postponed.

It was the first meeting between Haftar and Meloni since the latter was elected to head the Italian government last year.