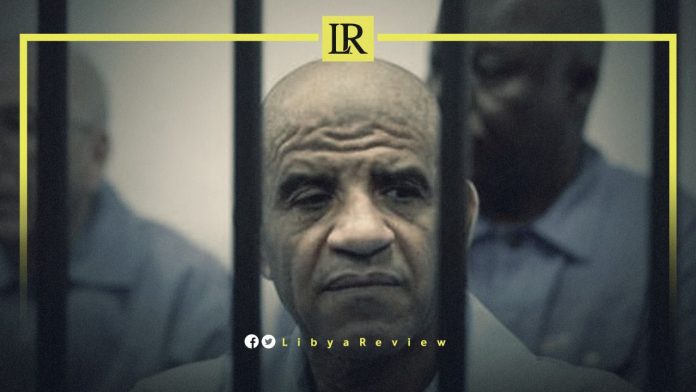 The lawyer of Muammer Gaddafi's Intelligence Chief, Abdullah Al-Senussi ruled out that his client would be handed over to the International Criminal Court (ICC).

In an interview with Asharq Al-Awsat, lawyer Ahmed Nashad said, "Al-Senussi's opponents are well aware that if they took this step, it would mean an explosion of the situation in Libya."

Nashad added that Al-Senussi's trial is "proceeding as usual, but the problem lies in the Special Deterrence Force (Rada) holding him, and the extent of its commitment to submit to the instructions of the Attorney General."

Al-Senussi was due to appear before the Tripoli Court of Appeal on Monday. The Rada Force did not bring him to the courthouse, and his hearing was postponed for the third time in a row to 6 June.

The lawyer indicated that if Al-Senussi had been brought to court, the session would have been devoted to "hearing my pleadings for defending him."

Last week, Al-Senussi's family described his trial as "unfair for political reasons, and not based on any legal or moral basis." The family demanded that everyone "refrain from politicising the case, and leave it to the integrity of the judiciary to implement justice."

In a statement, the family confirmed the increased suffering of Al-Senussi, as a result of "deliberate medical negligence and deprivation of his internationally agreed human and legal rights. He is deprived of allowing doctors to follow up on his chronic and serious diseases, regular family visits, attendance at trial sessions, and meeting with the defence team, who were prevented from visiting him for more than five years."

The statement added that "this means a slow death decision has been taken, and that the unfair trial procedures are only a means to camouflage that crime."

They held the local authorities responsible for his wellbeing, and demanded the provision of the necessary medical care.

On Thursday, the ICC issued new arrest warrants for alleged war criminals in Libya, as confirmed by Karim Khan, the ICC Chief Prosecutor. Khan further revealed that a delegation from the ICC is scheduled to visit Libya in the near future to discuss the establishment of an ICC office, in collaboration with Libyan authorities. The Prosecutor emphasised the growing collaboration between the court and Libya, stating that their cooperation will strengthen in the coming period.

In his address to the United Nations Security Council on Thursday, Khan reported, "Following our request for new warrants in Libya, the court has already issued four new arrest warrants." He also mentioned that "three weeks ago, I stressed the importance of issuing arrest warrants for suspects in Libya."

Khan also underscored the ICC's extensive efforts in gathering evidence related to war crimes in Libya, stating, "We have collected over 500 pieces of evidence in Libya and conducted reviews of satellite imagery." He expressed appreciation for the Libyan government's cooperation with the court.