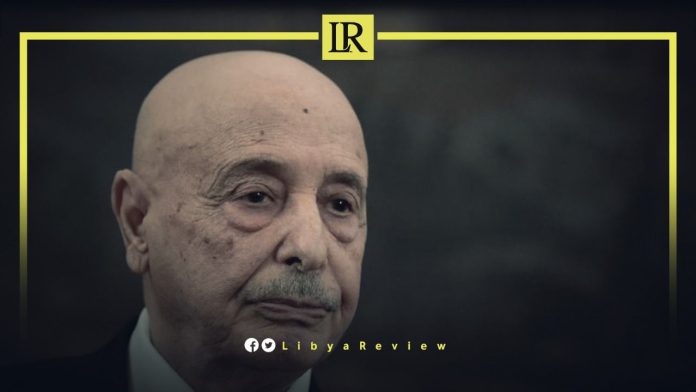 The Speaker of the Libyan Parliament, Ageela Saleh stated that he expects the 6+6 Joint Committee to reach an agreement before the end of this month, to hold elections later this year. He emphasized that the demand for a constitutional basis for elections is "making a mockery of the Libyan people."

Saleh added that the constitutional declaration "is a temporary solution until an official constitution is established." He also mentioned that "there are no real political parties in Libya yet, and that effective power lies with social customs, tribal leaders, and local wisdom."

The Speaker stressed the "urgent need for all foreign fighters and mercenaries to leave Libya immediately." He also called for "not excluding anyone from running for elections. The ballot box should be the judge."

Saleh urged Libyans to "refrain from choosing candidates based on their tribes," and predicted that the elections will take place before the end of the year. He emphasized the need for "a neutral body to supervise the elections to ensure their success and acceptance by all parties."

On Thursday, the UN Envoy to Libya and the Head of the United Nations Support Mission in Libya (UNSMIL), Abdoulaye Bathily held a meeting with the Libyan Minister of State for Communication and Political Affairs, Walid Al-Lafi.

In a statement, the Libyan Hakomitna platform indicated that the meeting "discussed ways to support cooperation between the Tripoli-based Government of National Unity (GNU) and the UN mission. As well as ways to implement a number of programmes that contribute to the success of the anticipated elections."

During the talks, the attendees agreed to form joint organizational teams to "coordinate efforts and exchange views between the two parties over the required preparations for the elections."

Bathily was briefed on the cooperation and coordination between the government and the High National Elections Commission (HNEC), praising the government's momentum for the electoral process.

He called on all "political actors, military and security leaders, notables, societal representatives, institutions, and authorities to come together in a spirit of compromise for the sake of establishing a clear and unified pathway towards lasting peace, stability, and prosperity."

"This is also an opportunity to encourage all stakeholders to rally behind the UN's comprehensive approach to enable national elections this year. The people of Libya are eager to turn the page of suffering and division and open a new chapter of peace, stability, and prosperity in their country. Let's not fail them," he added.