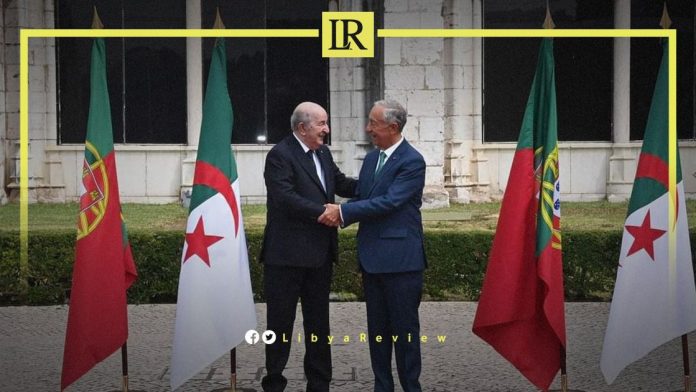 Algerian President, Abdelmadjid Tebboune stated that there is agreement with his Portuguese counterpart, Marcelo Rebelo de Sousa on several international and regional issues, including the Libyan crisis.

This came during an official two-day visit by the Algerian president to Lisbon, which concluded on Wednesday.

Tebboune said that he discussed with de Sousa the situation in Libya, Mali, the Sahel, Western Sahara, and Palestine, adding that "there is convergence in viewpoints with the Portuguese President."

He described the talks as "fruitful, frank, and sincere, reflecting the depth of political relations," and "did not witness any difference in viewpoints."

Earlier this month, Algerian Foreign Minister, Ahmed Ataf reiterated that the return of stability in Libya will only take place through a Libyan-led track.

This came during his speech at the inaugural session of the Council of the Arab League at the level of Arab Foreign Ministers on Wednesday, in Jeddah, Saudi Arabia.

Ataf affirmed his support for consensus among Libyans to organize elections, end the crisis, and build a democratic state.

He also called on the Libyan parties to "resort to reason, show a spirit of responsibility, and put Libya's interest above all interests."

In March, Libyan Minister of Foreign Affairs, Najla Al-Mangoush held a telephone call with Attaf to congratulate him on assuming his new position.

During the talks, the two sides discussed ways to strengthen fraternal relations between the two neighbouring countries.

The two also discussed the latest political developments and exchanged views on proposals aimed at overcoming obstacles that impede the path of a political settlement.

In turn, the Algerian Minister renewed his permanent solidarity with Libya and support for all international efforts for holding free and transparent elections that will end divisions and restore Libya to its leading position at the continental and international levels.

Al-Mangoush, accompanied by the Kuwaiti Foreign Minister, Salem Abdullah Al-Jaber Al-Sabah and their delegations, arrived, on Tuesday evening, in Jeddah.

According to a statement by the Libyan Ministry of Foreign Affairs, Al-Mangoush will hold, on the sidelines of the summit, a number of bilateral meetings with her Arab counterparts.