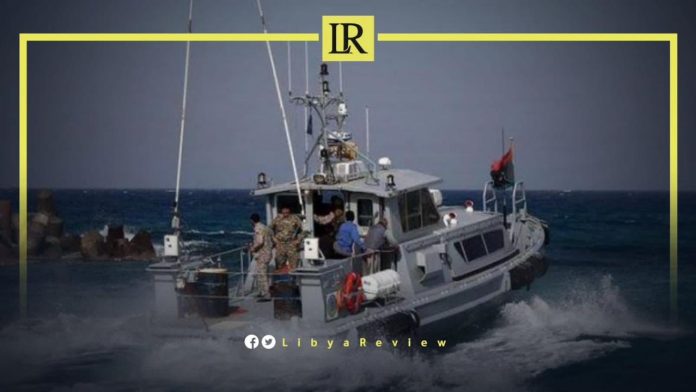 The Libyan Interior Ministry of the Parliament-designated government, announced that two members of the Libyan Coast Guard were killed by drone strikes that targeted the Al-Maya seaport, near Al-Zawiya city.

In a statement issued on Sunday, the Ministry denounced the "cowardly terrorist act, which targets the security and stability of Libya." It also expressed its "deep condolences to the families of the victims."

The statement stressed that "this criminal act represents a serious attack on the security and stability of the country. We will not stand idly by in front of anyone who puts his personal interest above the interest of the country and the people."

The Ministry called on the Attorney General and the UN Envoy in Libya to "assume their responsibilities and move as quickly as possible to hold the perpetrators of these operations accountable, and bring them to justice."

On Friday, the Head of the High Council of State (HCS), Khaled Al-Mishri claimed that Prime Minister Abdel-Hamid Dbaiba was exploiting drones to terrorize his political opponents.

Commenting on the airstrikes on Al-Zawiya city, Al-Mishri expressed his rejection of deploying drones to settle political scores, under the pretext of combating crime.

He called on the Presidential Council to withdraw the ability to use drones from Dbaiba, given that the Presidential Council is the Supreme Leader of the Libyan Army.

Al-Mishri also claimed that oil and fuel smuggling is being carried out on a large scale by officials and advisers to the PM. "Turkey has nothing to do with these drone strikes, but rather those drones are run by Dbaiba," he added.

On Thursday, the Official Spokesman for the Government of National Unity (GNU), Mohamed Hammouda commented on the airstrikes that targeted various areas in Al-Zawiya.

"This morning our national air force carried out successful and targeted airstrikes against a number of hideouts of fuel smuggling, drug, and human trafficking gangs in the western coast," he said in media statements.

Hammouda added that the operation was "launched on the direct orders by Prime Minister Abdel-Hamid Dbaiba. These were part of a military plan to purge the areas along the west coast, and other sites of trafficking criminals and gangs."

Earlier, the spokesman stressed that they "will continue the military operations until all objectives are achieved."

The Deputy Head of the Council of Elders of Al-Zawiya, Jumaa Al-Jilani confirmed that two people were injured as a result of the drone strikes. The Ambulance and Emergency Service announced that one person was slightly injured, near the Sayeda Zainab area, south of Al-Zawiya.

Meanwhile, MP Ali Bouzraiba claimed that Turkish drones had conducted the airstrikes, by order of Dbaiba. Turkey is believed to control a number of military bases in western Libya, most notably the Al-Watiya airbase.