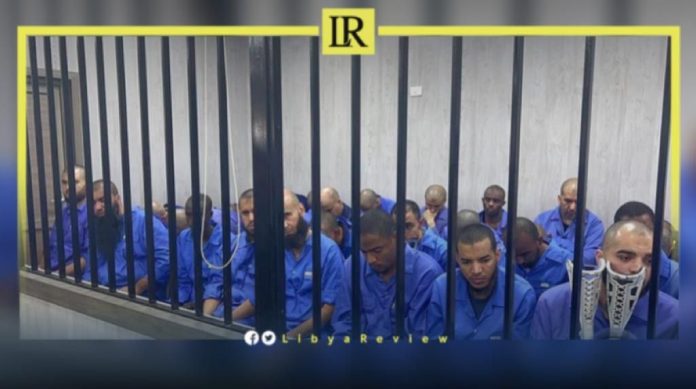 On Monday, the Misrata Court of Appeal issued its final ruling in the trial of 53 affiliates of the IS terrorist group, sentencing 35 of them to death.

According to the verdict, others were sentenced to life in prison, while minor members of the organisation were sentenced to 10 years in prison, and deported to their home countries.

According to press sources, the defendants had been arrested during the "Al-Bunyan Al-Marsous" operation in Sirte.

In June, a prominent IS commander surrendered to the 444th Brigade in Bani Walid, 180 km southeast of Tripoli.

Mustafa Abdel-Hamid bin Dallah has been included on the General Attorney's wanted list since 2016, following the launch of the Al-Bunyan Al-Marsous operation.

Bin Dallah has been targeted by the US Africa Command (AFRICOM) twice. His residence in Bani Walid was also raided several times, in collaboration with US forces under air cover. He was reportedly responsible for the security of senior IS leaders, and securing supplies for the organisation.

He is also accused of facilitating the travel of the "Emir" of IS in Libya, nicknamed Abu Muadh Al-Iraqi, and other leaders.

The Al-Bunyan Al-Marsous military operation was launched by the former Government of National Accord (GNA) against the Islamic State to expel it from the coastal area of Sirte. Militias, with international political and military support represented by American air support, participated in the operation.

On 5 May 2016, the GNA announced the formation of an operations room to launch and lead the operation to expel terrorists from the area between the two cities of Misrata in the west, and Sirte in the center. About 354 fighters were killed in the operation, while 2,000 were injured during the operation.

Notably, ISIS aimed to overthrow the state by violence, overtaking several towns by force, and disrupted the Basic Law, and preventing state institutions from carrying out their work. As well as using "bombs, explosives, and booby-traps to achieve the organisation's purposes. They committed acts of vandalism, and mass killings with the intent of compromising the integrity of the state.