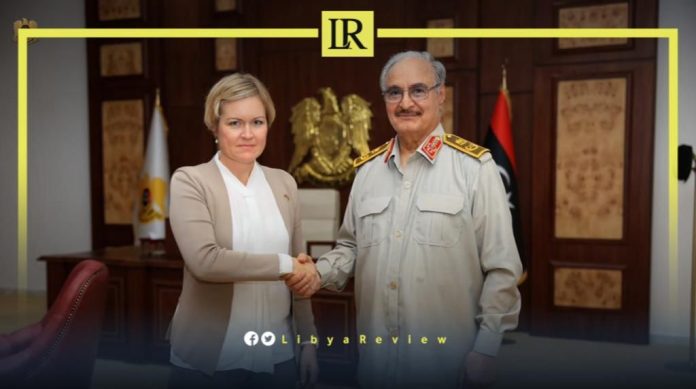 On Monday, the Commander-in-Chief of the Libyan National Army (LNA), Field Marshal Khalifa Haftar held a meeting with the British Ambassador to Libya, Caroline Hurndall in Benghazi.
They discussed mechanisms required for "creating a safe environment that allows for peaceful and inclusive elections in 2023."
The meeting dealt with a number of issues, including the role of the United Kingdom in supporting security and stability in Libya. As well as the illegal immigration crisis, and its impact on the security and stability of the UK and EU.
The statement added that they stressed the "importance of supporting the efforts of the Libyan Parliament, and the High Council of State (HCS) to complete the constitutional rule."
The two agreed on the critical need to "unify state institutions, including the military. As well as ensure national resources are managed transparently, for the benefit of all Libyans."
Last week, the German Ambassador to Libya, Michael Ohnmacht, said that elections in Libya can be held before the end of the current year, citing the High National Electoral Commission's (HNEC) previous statements that it was technically ready.
In press statements, Ohnmacht stated that "it is not just about the possibility of holding the elections whether at the end of 2023 or at the beginning of next year, but most importantly is to ensure that they are successful and transparent, and with acceptable results. I have repeatedly spoken with Field Marshal Khalifa Haftar, the General Commander of the Libyan National Army (LNA), in Benghazi, where he affirmed that he wants elections, like all other officials in Libya who showed similar desires."
Libya has been in chaos since a NATO-backed uprising toppled longtime leader Muammar Gaddafi in 2011. The county has for years been split between rival administrations, each backed by rogue militias and foreign governments.
The current stalemate grew out of the failure to hold elections in December 2021, and the refusal of Prime Minister Abdel-Hamid Dbaiba, who is leading the transitional government, to step down.