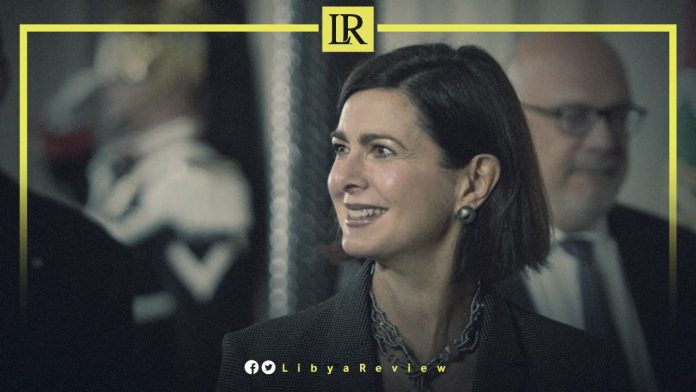 On Wednesday, an Italian MP urged the government to "suspend any direct or indirect support to Libyan authorities, implicated in severe human rights violations against migrants and asylum seekers."
Laura Boldrini, a leading member of the center-left Democratic Party (PD), stated in a Parliamentary Foreign Affairs Session that Italy "must withhold any support to Libyan authorities involved in such abuses."
In addition, Boldrini took to Twitter to echo her concerns about the situation in Libya, a topic brought to the fore through numerous journalistic investigations, reports from non-governmental organizations, the UN Secretary-General, and the UN Mission.
Boldrini highlighted the "grim reality of arbitrary arrests, extrajudicial killings, instances of slavery, rape, and enforced disappearances of migrants, under the control of Libyan state mechanisms." The former Speaker of the Italian lower house questioned the "stance of the Italian government against these crimes against humanity," pondering if these "severe abuses were being disregarded merely to control the migration influx."
She concluded by urging a halt to any support for institutions implicated in similar crimes.
Notably, the Mixed Migration Center (MMC) said that the number of migrants residing in Libya increased by 2% in December 2022. This is estimated at 694,398 migrants, from more than 42 nationalities.
The Brussels-based center cited a report issued this week by the International Organization for Migration (IOM), on the latest numbers of migrants in Libya. It noted that 54% of migrants reside in western Libya, 34% in the east of the country, and 12% in the south.
The report indicated that most of the migrants in eastern Libya are from Egypt and Sudan, while those coming from Niger and Chad made up the majority of migrants in the south and the west.
Meanwhile, the German NGO, Sea-Watch criticized the Italian Coast Guard for returning 30 migrants to Libya, after they were rescued by the ship Sea-Watch 3 in late April, according to the Italian Infomigrants website.
Sea-Watch 3 rescued the migrants in the Mediterranean and informed the Sea-Watch plane that the Italian Coast Guard had ordered them to return the migrants to Libya. This was based on instructions from the Maritime Rescue Coordination Centre in Rome.
The German NGO confirmed on Thursday that the migrants were later transported to Libya, where the Captain of the Sea-Watch 3 gave orders to return the migrants.
In 2018, a similar event took place, when the Captain of the ship Asso 28 was sentenced to one year in prison by an Italian court for handing over 108 migrants to Libya, after rescuing them.