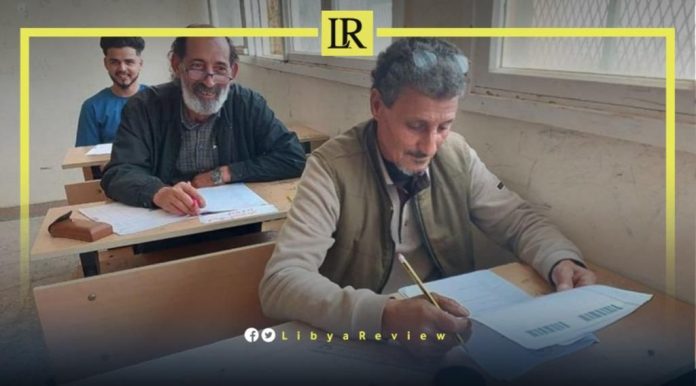 "Learning knows no age limit." This is how Libyan citizens in their sixties are interpreting this phrase as they sit in classrooms alongside younger students, participating in the "Home Education" system.

According to Asharq Al-Awsat, the Ministry of Education recently shared photos of several students, in their sixties, taking exams for the basic education stage in schools in various regions across the country, including Sirte and Tobruk.

One of the individuals highlighted by the Ministry of Education is Mohamed Al-Mabrouk Al-Samlaki, 54, who continues his education through adult learning and is preparing to take exams for the completion of the basic education finals in the Sidi Al-Saigh district of Tripoli.

The ministry also mentioned another example, Abu Al-Qasim Khalifa, who had been absent from school for 34 years. He decided to resume his education this year. Despite his age, he overcame the obstacles and participated in the exams for the completion of the basic education stage for the academic year.

Amidst a warm welcome from everyone, Abu Al-Qasim sat to take his exam at the Suqour 17 February committee in the city of Sirte.

Libya has been in chaos since a NATO-backed uprising toppled longtime leader Muammar Gaddafi in 2011. The county has for years been split between rival administrations, each backed by rogue militias and foreign governments.

The current stalemate grew out of the failure to hold elections in December 2021, and the refusal of Prime Minister Abdel-Hamid Dbaiba, who is leading the transitional government, to step down.

On Thursday, the United Nations Envoy to Libya, Abdoulaye Bathily reiterated the UN Support Mission's (UNSMIL) efforts to support the electoral process in the country.

These remarks came during consultations with various local and international stakeholders, emphasizing the importance of stability-fostering initiatives in building a modern state.

During his meeting with the Minister of Justice, Halima Abdel-Rahman on Thursday, Bathily highlighted numerous areas of collaboration.

Prominent among these are human rights issues, and the activation of restorative justice and national reconciliation.