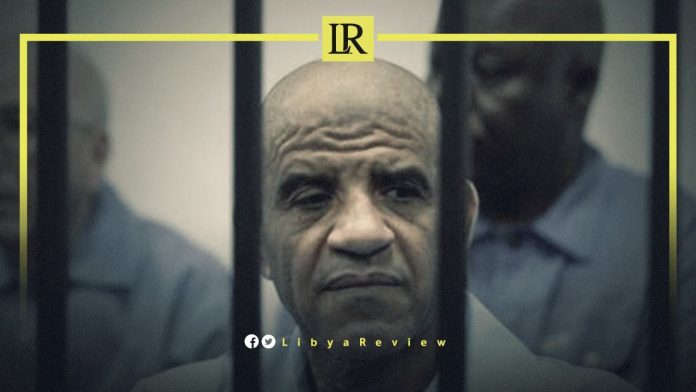 The daughter of Abdullah Al-Senussi, the former Head of the Libyan Intelligence Agency, has issued a heartfelt plea to the Libyan people, seeking their help to allow her father to attend the funeral of her brother, Imhimed, who was killed a few days ago in Sebha.
In a video clip, Al-Anoud Al-Senussi beseeched the people of Libya to "assist her in ensuring her father can be present at his brother's funeral." Al-Anoud pleaded, "I implore you, I implore you, I implore you, Libyans, to help us make it possible for my father to attend his son's funeral."
Al-Anoud highlighted that her father was incarcerated when her brother Imhimed was just ten years old. Since then, they've met only two or three times.
She also pointed out that "prisoners should have the right to attend the funerals of their relatives."
Notably, Imhimed was found killed in Sebha, in southern Libya, according to Al-Arabiya Al-Hadath news.
He was found brutally murdered, and showered with bullets.
Other sources claimed that the crime was caused by a family quarrel between Al-Senussi and his cousin, which led to him being stabbed several times.
His last public appearance was in December 2022, when he threatened to close all government institutions in southern Libya if the Government of National Unity (GNU) did not release his father and his companions.
Al-Senussi, the father, was due to appear before the Tripoli Court of Appeal on Monday. The Rada militia holding him did not bring him to the courthouse, and his hearing was postponed for the third time in a row to 6 June. His lawyer ruled out that his client would be handed over to the International Criminal Court (ICC).
In an interview with Asharq Al-Awsat, lawyer Ahmed Nashad said, "Al-Senussi's opponents are well aware that if they took this step, it would mean an explosion of the situation in Libya."
Nashad added that Al-Senussi's trial is "proceeding as usual, but the problem lies in the Special Deterrence Force (Rada) holding him, and the extent of its commitment to submit to the instructions of the Attorney General."
The lawyer indicated that if Al-Senussi had been brought to court, the session would have been devoted to "hearing my pleadings for defending him."