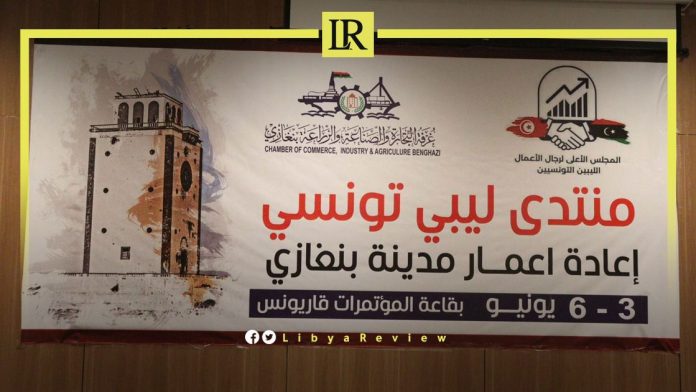 On Sunday, the Libyan-Tunisian Forum was launched under the theme of 'Reconstruction of Benghazi' the second largest Libyan city.

The four-day forum is organized by the Benghazi Chamber of Commerce, Industry, and Agriculture, in cooperation with the Supreme Council of Libyan-Tunisian Businessmen.

The activities of the first day were attended by Saqr Bujawari, Mayor of Benghazi, Saleh Al-Obeidi, Chairman of the Board of Directors of the Benghazi Chamber, and Ali Buhairi Al-Awjali, Chairman of the Benghazi and Derna Reconstruction Fund.

The forum discussed ways to enhance cooperation and work opportunities with Tunisia, in economic, trade, and investment fields.

A member of the Benghazi Municipal Council, Engineer Ahmed Al-Tira, told the Libyan News Agency that the council has drawn up a plan for 2023 to 2030 to develop the city. "We are working on implementing the plan with the participation of all sectors and civil society institutions," he said.

He explained that the Benghazi Municipal Council will participate in the reconstruction of the city, along with local and international companies.

Last month, the Chairman of the Supreme Council of Tunisian-Libyan Businessmen, announced that the conference discusses the reconstruction of the city. Abdel-Hafeez Al-Sakraoufi affirmed that the reconstruction project will provide jobs for more than 20,000 Tunisians.

During the conference, a contract will be unveiled for the construction of an integrated city in Libya. This includes 10,000 housing units, four commercial towers, large areas, several malls, hospitals and schools, at a value of $1.5 billion dollars, on an area of 700.13 hectares.

Al-Sakraoufi said in a statement to Al-Sabah Al-Tunisia that "the infrastructure companies that will implement this huge project will be specialised in electricity, building materials, communications, and others."

"It was agreed that Tunisian companies will operate the project, while Tunisian and Egyptian workers will be used," he added.

He expressed his hope that the project will be completed in 2030, as the handover will take place in stages.