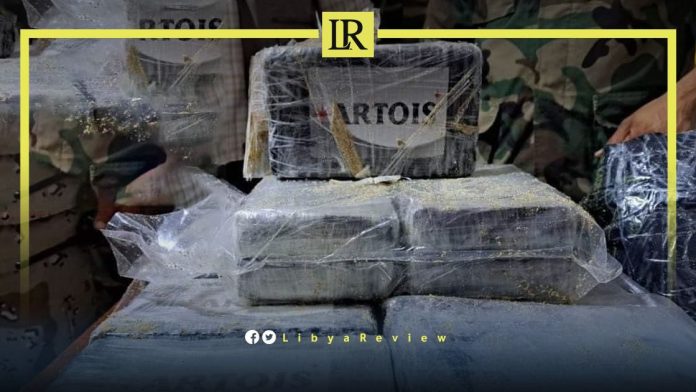 The Libyan Intelligence Services in Benghazi announced the seizure of 25 kilograms of raw cocaine, on a beach in the city.

The agency said that it had issued a report to the Narcotics Control Office.

The statement added that, "there exists a major scheme from abroad, supported by weak-minded people inside the country to target young people, by promoting this large amount of drugs."

In March, a large shipment of narcotic pills was seized at the Benghazi seaport. The smugglers attempted to conceal them inside imported cars, on a ship arriving from France, according to the media division of the Libyan National Army (LNA).

The division stated that during the periodic procedures for inspection and follow-up at the seaport, "more than 10 million hallucinogenic pills that were stored in imported cars, on a cargo ship coming from France, were found."

In February, Libya's Interior Ministry announced that members of the deterrence apparatus arrested an organized gang, that was planning to manufacture and trade drugs internationally.

In a statement, the Ministry said that "a machine used to manufacture narcotic pills at a very high density was seized after arriving in the country, through a seaport coming from Europe."

The statement explained that "this was done after setting up a tight ambush in the Al-Sawani area to seize the machine, while it was being delivered to a Libyan city, to begin the production process of nearly 100,000 narcotic pills per day."

The drug trade in Libya has proliferated since the 2011 civil war. Last year, the Maltese authorities recently seized 612kg of cocaine en route to Libya, in a record-breaking haul worth some €69 million.

Libya has been in chaos since a NATO-backed uprising toppled longtime leader Muammar Gaddafi in 2011. The county has for years been split between rival administrations.