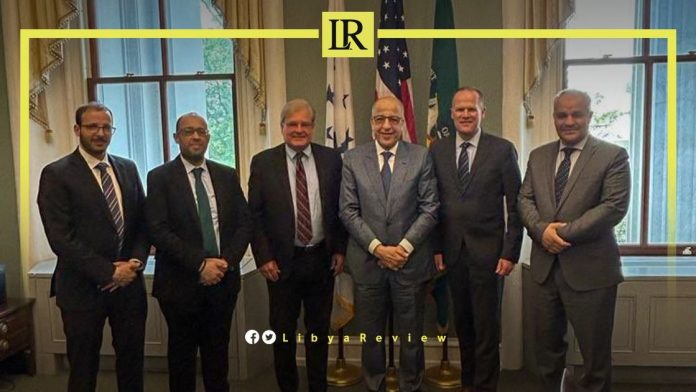 The Governor of the Central Bank of Libya (CBL), Al-Siddiq Al-Kabir, and Assistant Secretary of the US Treasury, Eric Meyer discussed joint cooperation to combat money laundering and terrorism financing.

The US Special Envoy to Libya, Richard Norland participated in the meeting, which was held in Washington DC, on Tuesday.

According to a statement issued by the CBL, the two sides discussed the results of the Article IV consultations with the International Monetary Fund (IMF). As well as the CBL's efforts, in partnership with the Libyan Government of National Unity (GNU), to invest in renewable energy and raise oil production rates.

Last week, Al-Kabir held discussions with the US Federal Reserve Board (FRB), the IMF, and the World Bank regarding the challenges confronting the financial sector.

The CBL's media office revealed that the meeting, which was conducted in Washington with the participation of several central banks and financial institutions globally, addressed the challenges facing the financial sector. Specifically, the proposed policies in light of technological developments in the field of payments and digital currencies, climate change, and crises were explored.

The meeting emphasised Libya's proactive role in confronting global financial trends and understanding the implications these trends might have on its financial sector. By involving itself in these discussions, Libya is strategically positioning itself to effectively navigate the changing landscape of international finance.

Notably, the IMF disclosed that Libya's foreign reserves amounted to $82 billion at the end of 2022. Dmitri Gershenson, the Head of the IMF mission to Libya, noted in an interview with CNBC Arabia that the frozen assets have totalled $70 billion dollars since 2011.

Gershenson lauded the role of the CBL in preserving these reserves despite the ongoing turmoil, thus providing a cushion against economic shocks for the Libyan economy. He also brought to light the economic contraction Libya experienced in 2022, with its Gross Domestic Product (GDP) shrinking by 11%.

However, the IMF mission Head holds a more positive outlook for 2023. He projected a 19% growth in Libya's local economy for the upcoming year, suggesting potential economic recovery amidst the ongoing geopolitical and financial challenges.