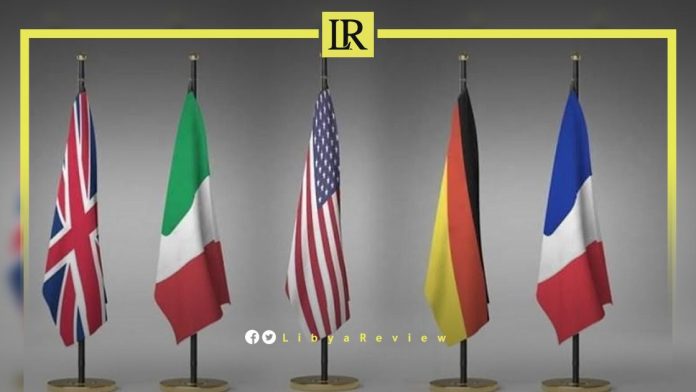 On Thursday, the embassies of France, Germany, Italy, the United Kingdom, and the United States called on all actors in Libya to "constructively engage with United Nations Envoy to Libya, Abdoulaye Bathily, to secure the necessary political, security, and legal conditions for the upcoming elections."

In a joint statement, the five countries welcomed the declaration by the United Nations Support Mission in Libya (UNSMIL), which was released on Wednesday. The statement acknowledged the efforts of the 6+6 Joint Committee to reach an agreement on proposed electoral laws.

They praised UNSMIL's "commitment to continue working with all relevant Libyan institutions and actors, to facilitate the resolution of all disputed elements within the electoral framework and secure the necessary political agreement for a path toward the elections, ensuring an equal playing field for all candidates."

UNSMIL had earlier acknowledged the outcomes of the Committee's activities. This was formed by the Libyan Parliament and the High State Council (HCS). They convened in the Moroccan city of Bouznika to devise draft laws for the Presidential and Parliamentary elections.

UNSMIL added that it recognizes "that the key elements in the electoral laws and related issues require acceptance and support from a broad range of Libyan institutions, civil society representatives – including women and youth – and active political and security parties, to conduct inclusive, credible, and successful elections."

The mission outlined its "continued commitment to work with all relevant Libyan institutions, including the Presidential Council, to facilitate consultations among all active parties to address controversial aspects in the electoral laws, secure the necessary political agreement to set the country on the path to elections and provide an equal environment for electoral competition among all candidates."

UNSMIL also called upon "all active parties in Libya to engage, in a spirit of consensus, in efforts to address all outstanding issues and create a more secure and suitable environment for conducting elections in 2023." The mission urged all actors to refrain from using delaying tactics aimed at prolonging the political crisis that has caused much suffering to the Libyan people.