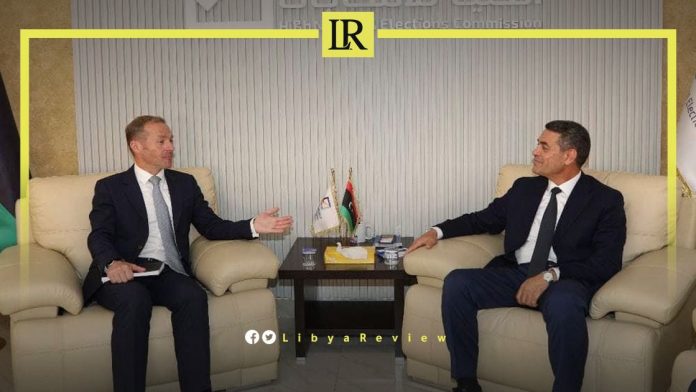 The Head of Libya's High National Election Commission (HNEC), Emad Al-Sayeh met with the French President's Special Envoy to Libya, Paul Soler, French Ambassador to Libya, Mostafa Mihraje, and a political advisor at the French Embassy. This meeting took place at HNEC's headquarters in Tripoli.

The meeting explored the latest developments in the electoral process, the Commission's preparations and readiness for implementation, and possible support and expertise in the management and execution of elections.

The meeting also examined ways to "bolster proposals and initiatives to ensure the success of the elections, in line with international standards." This comes as part of the French state's support for the electoral process in Libya.

The French delegation affirmed their "continuous support for the Commission's efforts to conduct free and credible elections, which reflect the will and aspirations of the Libyan voter towards peace and stability."

The Head of the Libyan Presidential Council, Mohamed Al-Mnifi, also received the French delegation.

Their meeting discussed bilateral relations, migration issues, border protection, and the results of the 6+6 Joint Committee's work.

The meeting also touched on security and military cooperation and the economy, emphasizing the importance of enhancing mutual cooperation and consultation in various fields.

On Tuesday, a member of the Committee, Fathallah Al-Sariri announced that the final agreement draft on electoral laws has been signed in Bouznika, Morocco.

The committee began talks in Bouznika with the goal of drafting laws to organize legislative and Presidential elections in 2023. In accordance with a roadmap announced by UN Special Envoy, Abdoulaye Bathily at the end of February.

The announcement of the signing of the final agreement draft on electoral laws is a significant step towards organizing nationwide elections, which is seen as a crucial phase in the stabilization of Libya and the solidification of its democratic processes.