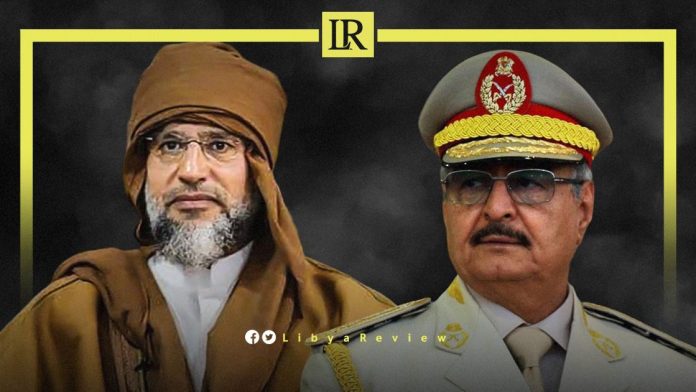 Libyan MP, Abdulsalam Nasiya ruled out that the candidacy of military personnel and dual nationals would constitute a crisis in Libya.

He claimed that the crisis in Libya "may be in the proliferation of weapons after the election of the country's President."

He welcomed the agreement of the 6+6 Joint Committee on laws for the Presidential and Parliamentary elections.

In a press statement, the MP said the "constitutional amendment approved the formation of the Committee to prepare electoral laws, and its work is considered final, and approved without change."

He added that the National Assembly Election Law "guarantees wide participation by approving the election of more than half of the members of the next Parliament through party lists."

On Tuesday, a member of Libya's 6+6 Joint Committee from the High Council of State (HCS) Fathallah Al-Sariri announced that the final agreement draft on electoral laws has been signed in Bouznika, Morocco.

The Committee was formed in March, with six members each from the Libyan Parliament and the HCS to prepare the electoral laws.

The Committee began talks in Bouznika, with the goal of drafting laws to organize legislative and Presidential elections in 2023. This is in accordance with a roadmap announced by UN Special Envoy, Abdoulaye Bathily at the end of February.

In press statements, Al-Sariri noted that the delay in announcing the conclusion of the committee's work was "an organizational matter concerning the Moroccan authorities, and had nothing to do with them."

The announcement is a significant step towards organizing elections, which is seen as a crucial phase in the stabilization of Libya, and the solidification of its democratic processes.

These electoral laws would provide a legal framework for conducting free, fair, and inclusive elections.

On 24 May, the Committee announced that it had reached an understanding to start finalizing the election laws and holding polls, during a meeting in Morocco.

Over 50 members of the HCS and 61 MP's rejected the outcomes of the meetings.

Libya has been in the midst of political instability since the death of long-time ruler Muammar Gaddafi in 2011 after protests that escalated into civil war.

The country has been run by two rival governments, which has subsequently created security challenges that further hampered efforts to hold elections.

Morocco has been mediating the conflict, attempting to find a political solution to end the political crisis in the country.

Bathily recently praised the North African country's efforts, during a press conference he shared with Moroccan Foreign Minister, Nasser Bourita.

"We have a common desire to contribute to restoring peace and stability in Libya," the UN Envoy said.

During the conference, Bourita reiterated Rabat's support for an UN-led political process in Libya, saying that Morocco will never take a biased position when it comes to the Libyan dossier.