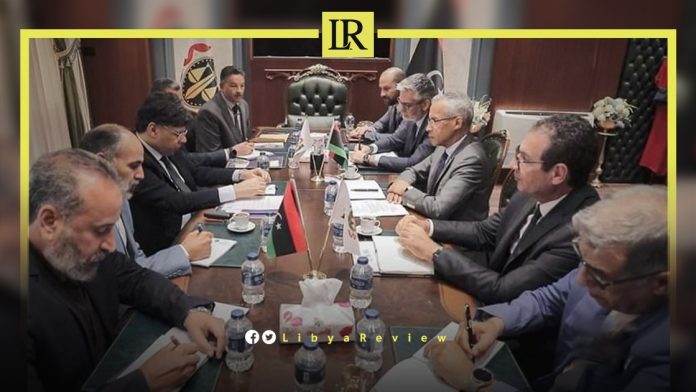 On Thursday, the Libyan Attorney General, Al-Siddiq Al-Sour met with the French Ambassador to Libya, Mostafa Mihraje. They discussed ways to enhance judicial cooperation in criminal matters.

The two also discussed plans to support the criminal justice system, and maintain its quality by sharing expertise with research and training institutions in France.

The meeting comes as part of ongoing efforts to strengthen relations and cooperation between Libya and France in various fields, including justice and security. The two countries previously cooperated on issues such as the fight against terrorism, and the return of Libyan assets frozen in French banks.

The Libyan Attorney General's Office has been working to reform and modernize the country's justice system, including the establishment of specialized courts and the training of judges and lawyers. International cooperation and partnerships with other countries, such as France, can help to support these efforts, and improve the overall functioning of the justice system in Libya.

Last month, the Libyan Ambassador to France, Khaled Kajiji and Mihraje recently met to discuss the ongoing political process in Libya. They discussed avenues for bolstering economic cooperation.

The discussion took place at the Libyan Embassy in Paris, during which both sides affirmed the pivotal, positive role that France plays in stabilising Libya. This dialogue and cooperation serve as precursors to the holding of Parliamentary and Presidential elections, set on a mutually agreed constitutional framework.

Mihraje clarified that "plans are in motion to commence consular work from the French Embassy in Tripoli. This move is intended to facilitate the visa application process for Libyan citizens, further strengthening the bond between the two countries."

Earlier this month, French CMA CGM Group announced its new seasonal service, Turkey Libya Express (TLX), set to begin on 1st July 2023.

This weekly service will link Asian regions with Turkey, Libya, and the expanding Red Sea market. It will commence from the port of Shanghai, with the 2,478 TEU vessel Buxlink.

Exclusively operated by CMA CGM, TLX will facilitate weekly voyages from Central and South China to Jeddah, offering valuable connections to the growing markets in the Red Sea area.

The TLX service will follow the rotation: Shanghai (China) – Ningbo (China) – Nansha (China) – Singapore – Jeddah (Saudi Arabia) – Iskenderun (Turkey) – Malta (Italy) – Misrata (Libya) – Jeddah – Port Klang (Malaysia) – Shanghai.