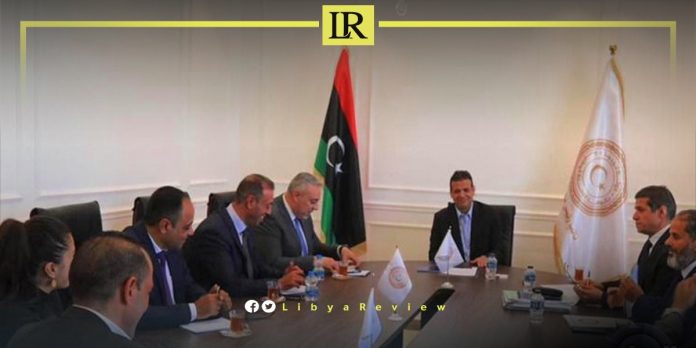 The Deputy Prime Minister and Minister of Health of the outgoing Government of National Unity (GNU) in Libya, Ramadan Abu Jinnah, recently convened with a Palestinian delegation led by the GNU's Assistant Foreign Minister, Emad Al-Zuhairi, and the Palestinian Ambassador to Libya, Mohamed Al-Rajal.
During the meeting, Abu Jinnah emphasised the profound bilateral relations between the peoples of Libya and Palestine, reasserting Libya's commitment to the Palestinian cause. This commitment is not just symbolic but transcends into practical collaboration and assistance.
The Palestinian delegation brought greetings from the Palestinian leadership and the Palestinian Ministry of Health, reaffirming their readiness for collaboration, knowledge sharing, and capitalizing on the experiences of Palestinian experts working abroad.
A significant proposal by the Palestinian delegation was the dispatching of specialised medical professionals for conducting surgeries and training Libyan medical teams. This contribution will undoubtedly play a role in upgrading Libya's healthcare sector, particularly in specialized areas such as corneal transplantation, open-heart surgery, pediatric heart surgery, and other disciplines.
An interesting aspect of the proposed cooperation lies in coordinating the private healthcare sector in both nations. The delegation suggested establishing partnerships and cooperation between the private sector in Libya and Palestine, specifically in the fields of medical laboratories and diagnostic radiology.
The delegates stressed that the exceptional relationship between the two countries should translate into fruitful cooperation across various fields. The Palestinian leadership is prepared to support the Libyan Ministry of Health in enhancing the efficiency of the healthcare sector through visiting physicians, training medical and auxiliary medical staff in certain specialties, and even in the pharmaceutical manufacturing processes.
In this landmark meeting, an agreement was reached to form a technical team to identify priorities and agree on working mechanisms in the future. An extensive meeting involving directors of major hospitals from both sides is planned to pinpoint important and urgent needs.
The Head of the delegation confirmed the Palestinian leadership's instructions to the Ministry of Health to provide all necessary support to the Libyan Ministry of Health under the supervision of the outgoing Foreign Ministry. This will be overseen by a technical committee from the health sector, leading the way for a promising partnership.