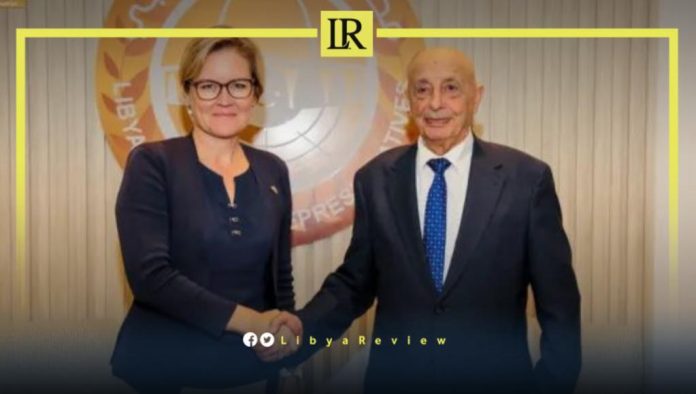 The Speaker of the Libyan Parliament, Ageela Saleh recently held a meeting with the UK Ambassador to Libya, Caroline Hurndall.
The meeting took place in the city of Benghazi, where they discussed the latest political developments mm, and ways to proceed with the Presidential and Parliamentary elections. This is through developing a roadmap for the upcoming stage. The meeting also touched upon the findings of the 6+6 Joint Committee.
During the meeting, Saleh emphasised the Parliament's commitment to drafting laws that are accepted by all political parties, through the work of the 6+6 Committee. He further stressed the need for a united government whose primary responsibility would be to implement electoral obligations, in accordance with the will of the Libyan people for free and fair elections.
Earlier, Saleh met with the Special Envoy of the UN Secretary-General, Abdoulaye Bathily in Benghazi.
Saleh reaffirmed his commitment to forging ahead in drafting a new roadmap for the forthcoming stage. The focus was on examining the outcomes of the 6+6 Committee, with the intention of reaching a consensus on electoral laws.
The ultimate aim is to facilitate the conduct of elections as soon as possible.
Notably, the United Nations has pledged to continue supporting the efforts of the Libyan Presidential Council, aimed at achieving the national reconciliation project.
This was confirmed during a meeting between the Deputy Head of the Presidential Council, Abdullah Al-Lafi, and Bathily.
The two discussed the latest developments in the country, particularly elections, national reconciliation, and the outcomes of the 5+5 Joint Military Committee (JMC) meetings, which took place in Paris recently.
Bathily praised the launch of the preparatory committee for national reconciliation, which was held recently in the Congolese capital, Brazzaville. This committee is set to pave the way for a comprehensive conference, with broad participation from the Libyan people.