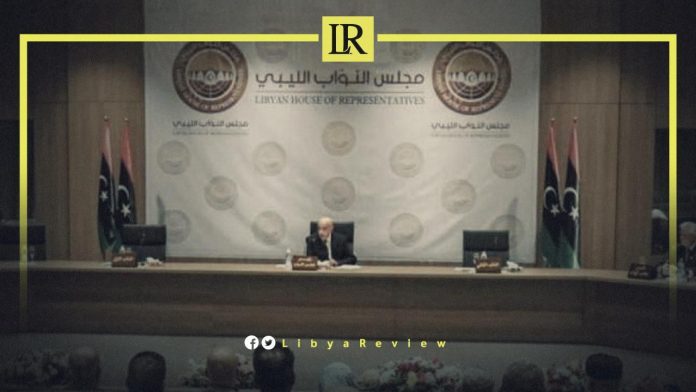 The Libyan Parliament adopted a new roadmap in their meeting held in Benghazi on Tuesday, a decision stemming from the actions of the 6+6 Joint Committee formed by the Parliament and the High Council of State (HCS).

The Speaker of the House, Ageela Saleh stated, that "the adoption of the roadmap has been decided upon, with the recognition that the Parliament is the rightful authority to give confidence to the government, above all others. Confidence is given to the government based on its program, which includes its modus operandi."

The decision's provisions, as read by Saleh, are as follows:

– The roadmap's adoption has been decided upon, highlighting that the Parliament is the original authority to give confidence to the government, without exception.

– Confidence is granted to the government based on its program, which includes its working methods.

– The conditions for choosing the Prime Minister are defined, and his government's tenure ends within the specified period.

– The government will be a reduced one, selected by the Prime Minister, with consideration to the geographical regions.

– The Prime Minister will receive endorsement from a number of Members of Parliament and the State Council.

– These observations are referred back to the 6+6 Committee to reconcile points of view, and returning them to the Parliament for final approval.

This adoption marks a crucial step in Libya's political transformation, promising new possibilities for regional balance and government efficiency. It also illustrates the Parliament's' commitment to empowering a government that aligns with its program, and working methods.

Libya has been in chaos since a NATO-backed uprising toppled longtime leader Muammar Gaddafi in 2011. The county has for years been split between rival administrations, each backed by rogue militias and foreign governments.

The current stalemate grew out of the failure to hold elections in December 2021, and the refusal of Prime Minister Abdel-Hamid Dbaiba, who is leading the transitional government, to step down. In response, the country's eastern-based Parliament appointed a rival government, which has for months sought to install itself in Tripoli.