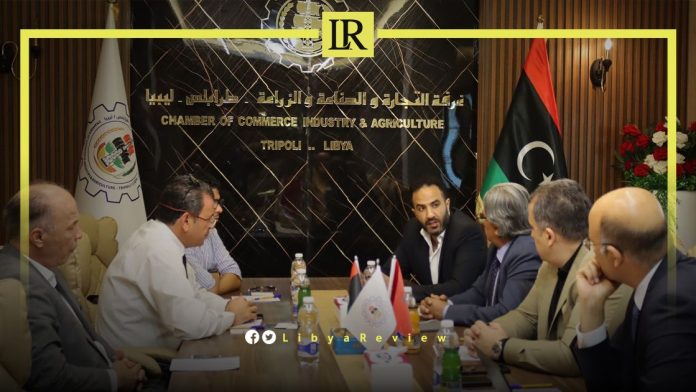 In a significant move aimed at boosting bilateral economic ties, Saad Al-Dawi, a representative of the Libyan Chamber of Commerce, Industry, and Agriculture in Tripoli, held a meeting with the Executive Director of Morocco's Casablanca Public Works Company.

The meeting centered on exploring collaborative undertakings and avenues for investment in Libya.

As noted by the Media Office of Libya's Ministry of Economy, the talks touched on "future projects in line with the investment blueprint laid out by the General Authority for Investment Promotion and Privatization, a body operating under the aegis of the Ministry of Economy and Trade."

During the discussion, Al-Dawi highlighted the "impressive advancement seen within Libya's private sector, particularly in commercial, industrial, and investment areas."

He confirmed the keen interest of business leaders and companies to solidify trade and investment ties with their counterparts in Morocco. These endeavours, he mentioned, "would occur under the watchful oversight and direction of Libya's Ministry of Economy and Trade."

Libya and Morocco share historical, cultural, and economic ties. Both nations belong to the Arab Maghreb Union, a trade agreement aiming to establish a common market among states in North Africa. However, the union has not been fully operational due to political differences.

Libya, with its vast oil reserves, has experienced periods of significant economic growth, but also substantial turmoil. After the fall of Muammar Gaddafi in 2011, the country faced political instability, affecting its economy. Nevertheless, with a new interim government established in early 2021, Libya has been making strides to attract foreign investment and rebuild its economy.

On the other hand, Morocco, a constitutional monarchy, has one of the most diversified economies in Africa. Important sectors include agriculture, mining, and manufacturing. The country has been working diligently to become a regional hub for foreign investors, particularly from the Arab world.

The recent talks between Libya and Morocco, could be a key step towards increased economic cooperation. Strengthening such ties would be beneficial for both countries, enhancing their economic resilience, and potentially leading to more stability in the region.