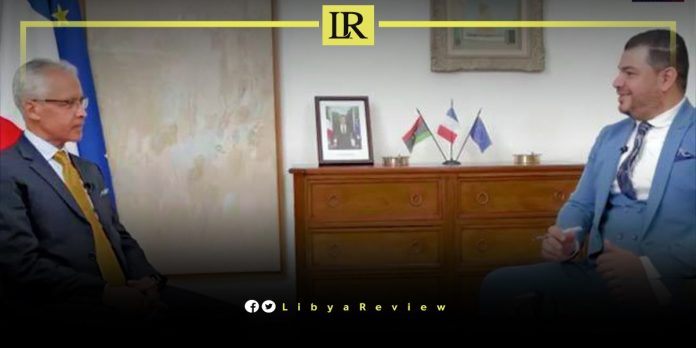 On Tuesday, the French Ambassador to Libya, Mustafa Mihraje called for enhancing regional coordination with neighbouring countries, to successfully remove mercenaries and foreign forces from Libya.

During an interview aired on the Al-Wasat (WTV) channel, Mihraje affirmed France's role in this endeavour and pointed to an agreed-upon multi-phase strategy, to manage this pressing issue.

The French Ambassador lauded the proposal of establishing a joint military force between the western and eastern factions of Libya, designed to secure the country's southern border region.

He characterized this region as "challenging due to its position within a generally unstable international zone." He stressed that this joint Libyan initiative would "automatically sideline undesirable elements in the country."

In his discourse on irregular migration, Mihraje underscored the need to address the internal issues of source countries. As well as the necessity of fortified border security to curb illegal crossings. He added the importance of protecting migrants in adherence to relevant international standards.

Earlier today, UN Envoy to Libya, Abdoulaye Bathily highlighted that the crisis in Sudan has hampered progress on the issue of expelling foreign mercenaries from Libya.

With regard to the political process, the French Ambassador stressed that elections must be inclusive, transparent, and fair to be deemed successful. He highlighted the need to address certain technical aspects, to ensure the integrity of the electoral process.

The Ambassador added, "We stand by any Libyan-led solution, which for its legitimacy, must receive wide acceptance. We also back the UN Envoy's role in mediating between different viewpoints, assisting all Libyan parties in their journey towards elections."

When asked about France's stance on some Libyan factions, Mihraje responded, "As an intermediary in Libyan affairs, France engages in dialogue with all parties, and supports a comprehensive, consensus-based solution under the auspices of the UN Special Envoy."

Recognizing the unique circumstances in Libya, Mihraje noted that "fulfilling certain prerequisites, such as accepting election results, is essential for holding elections." He expressed optimism, citing the increased frequency of discussions with all parties, including youths, women, civil society, and active political actors who are keen on proceeding to elections.