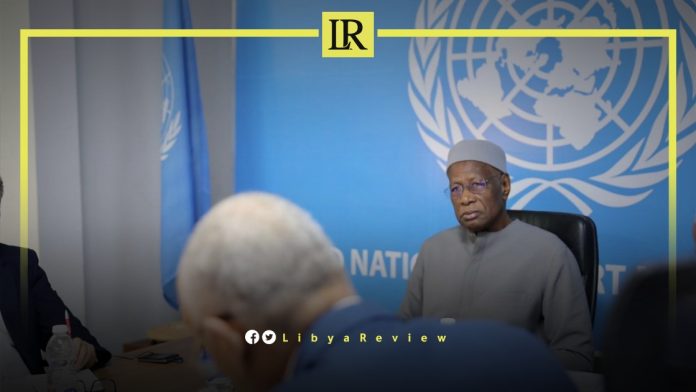 The UN Envoy, and the Head of the United Nations Support Mission in Libya (UNSMIL), Abdoulaye Bathily held a meeting with several African ambassadors and representatives accredited to Libya. He briefed them on his ambitious mission to facilitate political compromise among crucial Libyan stakeholders, in order to enable the successful execution of inclusive elections.

Moreover, the meeting provided an opportunity to deliberate the implications of recent developments in neighbouring countries on Libya. Given Libya's geographical location, changes in adjacent territories can significantly affect its political, economic, and social dynamics. By discussing these potential influences, Bathily shows an understanding of the broader regional context in which Libya operates.

Earlier, Bathily met with Khalid Al-Dosari, the Qatari Ambassador to Libya. This significant meeting was held at the Qatari Embassy in Tripoli, and shed light on the ongoing political developments in the country.

Bathily discussed the rapidly evolving political landscape of the country. The critical dialogue reflects the importance of international diplomatic conversations, in advancing peace and unity efforts.

The Qatari Embassy, underscored that the meeting "was an opportunity to review the cooperation between Qatar and the United Nations. This partnership underscores the crucial role Qatar plays as an international ally, in supporting the United Nations' mission in Libya."

The statement also underscored the latest developments in Libya. The progress, or lack thereof, of the Libyan situation, directly impacts the peace and security initiatives of the UN and vested nations.

On Sunday, Bathily stressed that UNSMIL "does not support any party or region at the expense of others in Libya, and does not support any leaders against others."

Speaking at a meeting of the elders of Zintan, Bathily said, "We are here to build a unified state, and we call on the Libyan leadership to fulfil its responsibilities for that. There is a need for a unified government and chamber to build a new state. The time has come to begin reconciliation between the Libyan parties."

Libya has been in chaos since a NATO-backed uprising toppled longtime leader Muammar Gaddafi in 2011. The county has for years been split between rival administrations, each backed by rogue militias and foreign governments.

The current stalemate grew out of the failure to hold elections in December 2021, and the refusal of Prime Minister Abdel-Hamid Dbaiba, who is leading the transitional government, to step down.